Technology
The 5 best phones you can safely hand over to your kids' grubby paws
Updated:
January 26th, 3:40 PM CST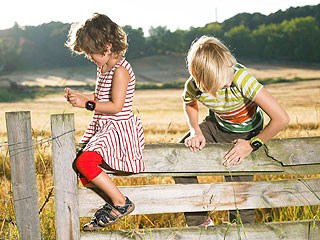 These days, it takes more than simply ringing the steel triangle on your deck to round up the kids for supper. As generations have plodded along, the need for a more efficient way to maintain contact with our children from afar has only increased, bolstered by their growing thirst for independence and reliance on consumer technology. However, although cell phones have become the obvious solution for basic communication and contact in lieu of the landline — and to a lesser degree, the triangle — they still pose both a financial and safety risk.
It's clear parents like to know where their children are, keep them safe from inappropriate websites or apps, and stop the wrong people from contacting them. Thankfully, child-friendly cell phone alternatives are now abundant, as more companies address parents' needs. Even though a phone is a great way for parents to maintain contact with their children, picking the right one isn't easy. Parents must address crucial factors such as cost and control, while simultaneously appeasing their children with features like custom ringtones, games, photos, and texting, among other notable features.
Moreover, the right cell phone allows parents to track their children via GPS, manage tasks, call and game limitations, and even program speed dialing that's accessible directly from front of the device. None of these phones boast the sheer power of the Samsung Galaxy S5 or Apple's iPhone 6, but let's be honest, kids don't need it all. And pre-paid, no-contract devices offer more peace of mind than most things in life.
Here are our top picks for the best smartphones and cell phones for kids, so you keep in contact with your loved ones at all times (even if they don't want you to).
Kurio's smartphone offering for kids may come in as one of the most expensive on our list, but it does pack a serious punch. The phone allows parents to keep track of their kids via a GPS monitoring system, and even allows them to set up "safe" and "danger" zones within the phone's map. Kurio includes its unique kid-safe Web-surfing feature so parents won't ever have to worry about their children stumbling across the wrong sites. Parents also have the ability to monitor any of the phone's contacts, phone calls, text messages, or applications to their specific liking. Aside from the bevy of parental controls, the Kurio Phone grants supreme flexibility due to the fact it's a fully unlocked Androidsmartphone. Parents pick the cell phone provider, the type of plan they wish to use, and have the option of avoiding constricting contracts. Safe enough to allow parents to rest easy but powerful enough to give kids a taste of modern day smartphones, the Kurio Phone impresses across the board.
Perhaps the most unique option of the bunch, the FiLIP 2, is a wearable device which functions both as a locator and phone. Each AT&T device syncs with a parent's cell phone through a downloadable app for iOS and Android, granting parents direct control over the watch's interface and the ability to set safe zones for cell phone usage. Additionally, the device boasts built-in location services, four color options (green, red, blue, and pink), and parents can program the device to handle inbound and outbound calls for up to five numbers. Parents can even send their children short text messages that appear directly on the watch's main display. And who doesn't like a watch that moonlights as a cell phone?
Just5 has long created easy to use, simple smartphones, and its CP10S continues this trend for the Latvian phone company. With large keys and a bright monochrome display, Just5 makes it easy for anyone and everyone to use. Parents have the option of programming a specific set of emergency numbers to the phone's special SOS button. With a simple push of the phone's SuperButton, users have the ability to send out text messages and calls to up to five programmed numbers. Just5 also includes a flashlight function in the CP10S which works even if the phone's battery completely dies. With its ease of use and convenient SuperButton, the CP10S proves a suitable option of smartphone for any kid.
Kajeet isn't so much a tangible phone designed exclusively for children as it is an all-inclusive service tailored toward your needs. The website offers a myriad of options in regard to smartphone choice, encompassing everything from standard phones to smartphones to tablets that are compatible with the service. The service itself revels in basic setup options for your children and entire family. Users select the type of phone and service plan they prefer, then simply activate the desired phone. A Kajeet account grants users access to customize what their child can and can't do with the device, allowing parents to block unwanted calls, track their child's location via GPS, and even set time limits for when the phone can be used.
LG's Optimus Zone 2 is one of the best options for parents looking to introduce their kids to smartphones. LG outfitted its Optimus Zone 2 with a built-in camera, access to text messaging, and also comes standard with Google Play Store access. While handing a smartphone over to a child seems a bad idea, the phone's Guest Mode allows parents to fine tune which features are available to their kids. Its On-Call Notes feature also allows the phone to record logs of calls made, so parents have the option of checking in on any conversations had on the phone. Don't let the $200 full retail price scare you; Verizon offers the Optimus Zone 2 for a cool $40 with a two-year agreement.