Sales - Money
Keep these 5 money problems from hurting your relationship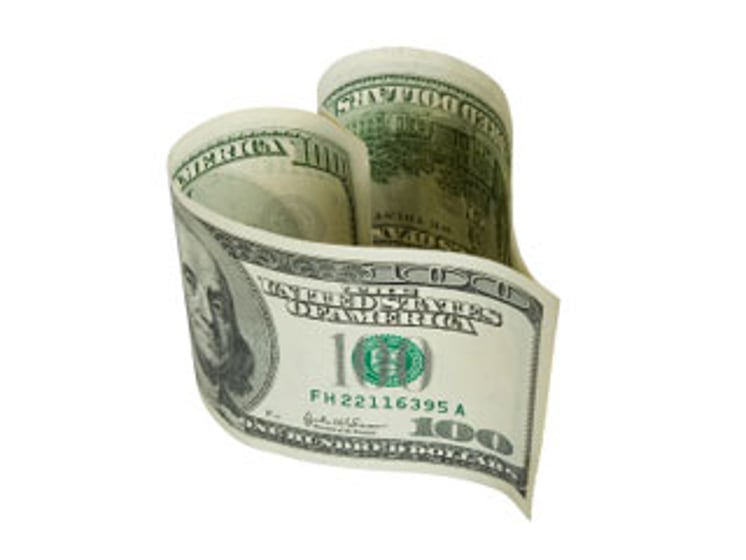 This month, couples around the world will celebrate Valentine's Day. That makes February a good time to consider your coupled money style. How you handle finances can make your partnership stronger – or tear it apart. In fact, one recent study found that arguing about money on a weekly basis doubles a couple's risk of divorce.
Review some of these money mistakes that can put a relationship at risk. Then, for Valentine's Day, promise to take positive steps to a healthier financial marriage.
Hiding your credit history. Secret debt, credit cards or financial problems are a major challenge for any relationship. Yet one in 20 Americans hides a debt, credit card or bank account from their partner. Stay financially transparent by reviewing credit reports together. (Every person has their own credit reports, even if married.) Individuals can obtain one free copy of their credit reports every year by visiting Annual Credit Report or by calling 877-322-8228 (toll-free). Together, check for errors and discuss any important changes to your credit history.
Avoiding planning for the future. Talking about what you want from life builds an emotional connection. These conversations also can lay the groundwork for your financial future. Do you agree on your future goals? Are you on track in your work toward those goals? Are you both contributing? Or do you need to revise your goals because of changes in your family, your work or your desires? Make sure you discuss these types of questions on a regular basis.
Staying too rigid with your roles. When you met your spouse, one of you may have been an economics major and the other may have been studying music. But today, if the musician is good with a checkbook and the economist cannot resist credit cards, be flexible with financial roles. Each of you should take the jobs that suit you best, instead of dividing financial responsibilities by career, gender, history or other.
Trying to change each other. Rather than arguing about each other's style, successful couples maximize their strengths. Consider giving a spendthrift a budget to plan a fun vacation or weekend outing for the two of you. A spender might enjoy a challenge to seek out bargains and squeeze every penny from the grocery budget. Work together to figure out how each person can contribute most effectively.
Splitting costs in a way that might split you up. Many couples begin their relationship with determination to be fair, and therefore divide costs equally. The goal, however, is to be equitable – which is not always the same as being equal. If one of you drives a BMW because your career has taken off while the other scrimps to keep tires on a 15-year-old car, resentment is bound to build up. While financial arrangements and responsibilities will vary for every couple, remember that partnership is about teamwork. Talk through and agree on a reasonable way to share living expenses.
When one or both of you struggles with repaying debt, all of these issues may be even more painful. Addressing your debt issues can help to heal your finances and your relationship. If you need help getting out of debt, a good place to start exploring your options is with a voluntary industry organization such as the American Fair Credit Council.

Andrew Housser is a co-founder and CEO of Bills.com, a free one-stop online portal where consumers can educate themselves about personal finance issues and compare financial products and services. He also is co-CEO of Freedom Financial Network, LLC providing comprehensive consumer credit advocacy and debt relief services. Housser holds a Master of Business Administration degree from Stanford University and Bachelor of Arts degree from Dartmouth College.