Technology
The best media streaming device you can buy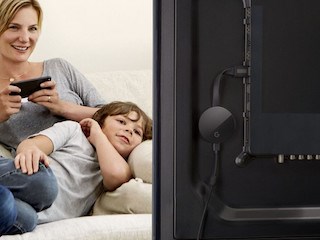 While virtually all TVs are shipping with smart features these days, they may not be the features you want, with many streaming services only available via external hardware. The best solution: buy a streaming media player. The problem is, a veritable smorgasbord of available devices makes this a more complicated and daunting task than ever before.
With TVs offering 4K resolution and High Dynamic Range (HDR), you'll want to make sure you buy a streaming device that's compatible, but that's only the start. You'll also want to make sure that the streaming services you care about — and the shows and movies you want to watch — can be easily found, without scouring the web for hours. This article serves up the cream of the crop so you can get the absolute most from your streaming experience.
Why should you buy this: It offers everything you need in a streaming box
Who's it for: Anyone who wants to stream 4K and HDR through an easy-breezy interface
How much will it cost: $100
With increased competition from companies like Amazon and Google, Roku really needed to nail its newest models, announced in September, and it absolutely did. While not the absolute top of the line, the Roku Premiere+ offers a combination of video quality and features that make it an obvious choice for anyone eyeing a newer 4K Ultra HD TV with HDR support.
The Roku 4 was the first model from the company to feature 4K resolution, but the Premiere+ takes that further with support for HDR, which can provide vastly improved contrast and deeper, more vivid colors. The Premiere+ only supports HDR10 — and there is no word on whether the other competing standard, Dolby Vision, will be added via a future update — but this is fine for most people. HDR10 is the most widely used format, allowing users to watch content from Netflix, Amazon, and others in HDR. Even 60 FPS (frames per second) video is supported here, an advanced feature that's not widely employed yet.
Apart from 4K and HDR support, the Premiere+ leverages Roku's vast library of apps and channels to make it a heavy hitter. All the majors you'd expect are here: 4K apps like Netflix, Amazon, and YouTube are standard, as are HD apps like HBO Now, and Hulu, and live TV streamers like Sling TV and PlayStation Vue. Amazon on the Premiere+ is also a premium experience, to the point that it is very nearly a Fire TV in app form. That means that even if you have a ton of Amazon Video movies and TV shows, you won't feel like you're missing out here.
And where search is concerned, Roku rules the roost. No other streaming box is as platform agnostic as Roku, with the company's devices showing you where to watch (and for how much, if not free) with simple text or voice search, either using the included remote, or the Roku app.
While you can access Roku's massive library on every model in the lineup, there are a number of other features available on the Premiere+ that make it an awesome value. Ethernet joins 802.11ac Wi-Fi for network connectivity, so dodgy wireless connections aren't a problem, and features like Night Listening mode — which turns down explosions and other loud sounds — and a headphone jack built into the remote make for a lot of flexibility in how you watch.
For $100, there are other options out there, but none that combine the vast array of content with the features available in the Roku Premiere+. If you find you don't need HDR or Ethernet, you can drop down a tier to the Roku Premiere, and still have one of the best media streamers available for just $80. On the other end, serious home theater enthusiasts can opt for the Roku Ultra for $130, which adds optical audio out, a USB port for local playback, and a lost remote detector. But the Roku Premiere+ hits the sweet spot to squeeze the most out of each and every streaming dollar.