Technology
Waiting for cheap 4K? Vizio's two new TV lines will tempt you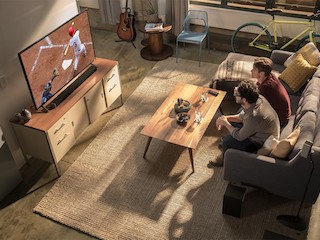 Vizio's 2016 P-series and M-series TVs offered some of the best price-to-feature ratios available in 2016, making them an easy recommendation for anyone looking to buy a TV that featured 4K Ultra HD resolution and High Dynamic Range without spending a fortune. On Tuesday, Vizio announced the 2017 models of both series, as well as a few new SmartCast audio products.
Before we run down the new lineup, there is one thing to keep in mind: While these new models look and act mostly like TVs, Vizio refers to them as "displays." There is a good reason for this since neither the new P-series or M-series models feature tuners for over-the-air broadcasts. This is not a deal breaker for most people in this era of cable, satellite, and internet streaming — plus, you can always buy an external tuner — but it is worth keeping in mind.
While customers who bought last year's P-series had to wait a few months until a firmware update added HDR10 to the Dolby Vision HDR that the TVs shipped with, the 2017 models ship with both technologies supported out of the box. The P-series features Vizio's newly coined XHDR Pro, as well as XLED Pro, which the company calls its most powerful local dimming, with up to 128 different zones that can be dimmed on demand. This allows for blacks to be blacker, increasing the overall contrast and adding depth to the range of colors available.
Like last year's P-series models, the 2017 models ship with a SmartCast tablet remote. This summer, a software update is coming that will make apps available directly from the display. This includes TV settings, as well as a suite of apps including Crackle, Hulu, iHeartRadio, Vudu, and Xumo. If you would like an extra remote, the SmartCast app for iOS and Android lets you turn your phone or tablet into a full-featured remote. Vizio's entire line of 2017 SmartCast displays features Chromecast built in, making casting content simple and easy. This also lets you control your TV with the Google Assistant and devices like Google Home.
The new SmartCast P-series comes in three size varieties: 55-inch, 65-inch, and 75-inch. Pricing starts at $1,300 for the 55-inch model, while the 65-inch and 75-inch models sell for $2,000 and $3,500 respectively. For more information on this lineup, including availability, see the P-series section of the Vizio website.
The P-series already has plenty to offer for the budget-minded consumer looking for a TV upgrade, but the M-series offers an even better value. These displays offer XHDR Plus and XLED Plus instead of the Pro versions found on the P-series models, but this mainly means fewer local dimming zones — 32 instead of 128 — and a lower effective refresh rate at 120 Hz instead of the 240 Hz offered on the more expensive line. Like the P-series, both Dolby Vision and HDR10 are supported here.
You will not see an enormous difference in pricing for the largest models — the 75-inch M-series sells for $3,000 instead of $3,500 for the same sized model in the P-series — but there are major differences in smaller sizes. The most affordable M-series model is the 50-inch, which sells for $800, while the 55-inch model sells for $1,000. The 65-inch model sells for $1,500, while the 70-inch model can be had for $2,000. For more information, see the M-series page on the Vizio website.
SmartCast sounders & wireless multiform speaker
Vizio also introduced six new soundbar systems to its lineup, ranging from ultra-affordable 2.0-channel models to a 36-inch, 5.1-channel wireless sound bar system. Two of the models are SmartCast branded, meaning they can be controlled with SmartCast remotes, feature Chromecast built-in, and can stream over Wi-Fi. Multiple SmartCast soundbars can also be paired together to play the same music in multiple rooms.
In addition to the soundbars, Vizio introduced its new SmartCast Crave Go wireless multiroom speaker. Like the soundbars, it has Chromecast built in and can be linked with other models for multiroom functionality. This model features a built-in rechargeable battery that offers up to six hours of battery life on a single charge.
The SmartCast Crave Go retails for $200 and is available now. The soundbars start at $80 for the 28-inch, two-channel model, and range up to $250 for the 36-inch, 5.1-channel SmartCast wireless model.