Entertainment
Twitter joins the Eclipse party with full coverage of the celestial spectacular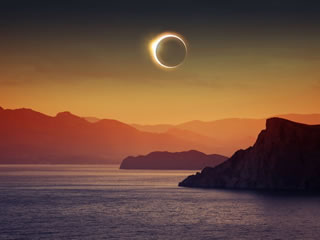 We're just days away from what for many people will be a once-in-a-lifetime experience — witnessing a total solar eclipse in all its majestic glory.
If you're unable to make it to the totality path stretching from Oregon in the west to South Carolina in the east, or if you arrive to find a bunch of fluffy white clouds spoiling the show (though you'll still experience that eerie darkness for a short while), then you have a bunch of options for watching it on TV or online as the giant shadow crawls across the country.
The latest outfit to get involved is Twitter, which has partnered with The Weather Channel to live-stream the stunning celestial event via mobile and desktop. You don't even have to have an account — just head over to Twitter's dedicated page on Monday at 9 a.m. PT to see the eclipse begin.
The coverage promises to immerse viewers in totalities from 10 locations across the United States. Live locations featuring in the stream include: Stanley, Idaho; Carbondale, Illinois; St. Joseph's, Missouri; Alliance, Nebraska; Hopkinsville, Kentucky; McMinnville, Oregon; Belton, South Carolina; Nashville, Tennessee; and Casper, Wyoming.
And the cameras won't all be stuck on the ground, with high-resolution and aerial drone footage also provided from The Weather Channel's network of storm trackers, as well as live segments from NASA's coverage, which is using cameras in space for what should be a spectacular view of the event.
There'll be a few "fun" extras, too, including Red Bull cliff divers leaping under the shadow of the eclipse, an eclipse-based game show (the eclipse is probably going to be more interesting), and, what with it being Twitter and all, interactive social segments.
"We're going to party like it's New Year's Eve," The Weather Channel's Neil Katz said in a statement, adding, "This eclipse is a celestial phenomenon and cultural moment that can't be missed."
For those in the U.S., Monday's eclipse will begin on the shores of Oregon at 9:06 a.m. PT, moving east across 14 U.S. states before ending in South Carolina at 4:06 p.m. ET. The black band on the map below shows the areas from which a total eclipse can be viewed.
To find out how to view the eclipse without damaging your eyes, be sure to check out NASA's webpage. And if you miss it this time around, you'll have to wait until 2024 for the next total eclipse viewable from parts of the U.S. (from Texas to Maine), so head out Monday if you can.
Twitter's latest live-stream deal follows a slew of others as the company broadens its strategy in a bid to win more users and keep advertisers on board.