Entertainment
Jamie Lee Curtis is coming back in John Carpenter's final Halloween film
Updated:
September 18th, 7:22 AM CDT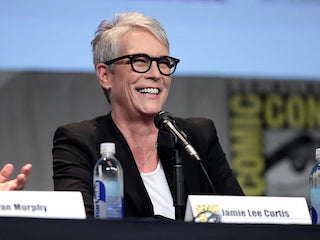 Jamie Lee Curtis upped expectations for the newest Halloween film Friday on Twitter, announcing that she will reprise her original role in the upcoming film — and including a picture of herself on the cabin porch with Mike Myers lurking in the background, knife in hand.
Curtis, who is an avid video game fan and occasional cosplayer, had her big-screen debut as Laurie Stroud in the original 1978 version of Halloween, directed by Carpenter. She has appeared occasionally in numerous Halloween films over the ensuing decades, including Halloween II (1981), Halloween H20 (1998), and most recently Halloween: Resurrection (2002). Her character was actually killed off in Resurrection, so it's unclear how the filmmakers intend to bring her back.
"I think it's much more horrifying to be scared by someone standing in the shadows while you're taking the trash out as opposed to someone who can't be killed pursuing you," he said.
The original movie, directed by Carpenter from his own script with an estimated budget of $300,000, was about a masked psychopath who escapes from an insane asylum and stalks and kills teenage babysitters on Halloween night. Since then, the ten Halloween films have grossed nearly $400 million worldwide. Even all these years later, Carpenter is passionate about his new project. "38 years after the original Halloween, I'm going to help to try to make the 10th sequel the scariest of them all," he said.
The latest Halloween movie (which doesn't yet have a full title) will be released on October 19, 2018.