Entertainment
Alicia Vikander runs, jumps, slides as Lara Croft in first 'Tomb Raider' footage
Updated:
September 20th, 8:04 AM CDT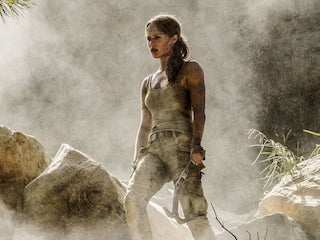 Filming on the new Tomb Raider movie ended back in June, and now we'll finally get our first look at the reboot of the popular movie franchise later this week with the premiere of the first, official Tomb Raider trailer.
Warner Bros. Pictures teased the premiere of the trailer on Facebook with a brief preview of footage from the film featuring Alicia Vikander as franchise heroine Lara Croft. As anyone familiar with the movies — or the games that inspired them — might expect, the footage primarily consists of Vikander running, jumping, and sliding her way through, over, and under a variety of obstacles, some more deadly than others.
Directed by Roar Uthaug (The Wave) from a script by Transformers: The Last Knight screenwriter Geneva Robertson-Dworet, Tomb Raider features Academy Award winner Vikander (The Danish Girl, Ex Machina) as the world-famous Lara Croft, and spins a new origin story for the character's rebooted live-action adventures.
The official synopsis for the movie indicates that she doesn't start off as a globe-hopping treasure hunter — quite the contrary, in fact.
"Lara Croft is the fiercely independent daughter of an eccentric adventurer who vanished when she was scarcely a teen," reads the synopsis. "Now a young woman of 21 without any real focus or purpose, Lara navigates the chaotic streets of trendy East London as a bike courier, barely making the rent, and takes college courses, rarely making it to class. Determined to forge her own path, she refuses to take the reins of her father's global empire just as staunchly as she rejects the idea that he's truly gone. Advised to face the facts and move forward after seven years without him, even Lara can't understand what drives her to finally solve the puzzle of his mysterious death."
Along with Vikander in the lead role, the upcoming film's cast also includes Dominic West (The Affair) as Lara's father, Daniel Wu (Into the Badlands) as the captain of the ship transporting Lara on her quest, and Emmy-nominated Justified and The Hateful Eight actor Walton Goggins as the film's unidentified primary villain.
Two films based on Lara Croft's adventures preceded the upcoming Tomb Raiderreboot film: 2001's Lara Croft: Tomb Raider and 2003's Lara Croft Tomb Raider: The Cradle of Life. Both films cast Angelina Jolie as Lara Croft and collectively earned $432 million at the worldwide box office, making the series one of the highest-grossing film franchises based on a video game property.
Tomb Raider hits theaters March 16, 2018.