Entertainment
'Creed II' casting sets up second-generation feud with Ivan Drago's son
Updated:
January 17th, 6:38 AM CST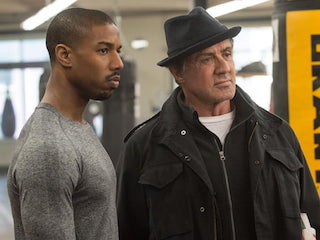 Director Ryan Coogler's 2015 reboot of the Rocky franchise, Creed, is not only getting a sequel, it's also getting a rematch of sorts.
Romanian boxer Florian "Big Nasty" Munteanu has been cast in Creed II as the son of Ivan Drago, the Russian boxer who killed Apollo Creed in the ring during the events of Rocky IV, only to be defeated by Rocky Balboa in a climactic international match. Munteanu's character is expected to challenge Creed star Michael B. Jordan's Adonis Creed, the son of Apollo Creed, who came into his own after being trained by Rocky (Sylvester Stallone) in the 2015 film.
Scheduled to hit theaters November 21, 2018, Creed II will be directed by Steven Caple Jr. (The Land) from a script by Stallone and Cheo Hodari Coker (Luke Cage). Caple replaced Stallone as the film's director in December 2017, and cameras are expected to begin rolling on the film in Philadelphia in March 2018.
Stallone confirmed the casting of Munteanu on Instagram after months of teases regarding a story inspired by Rocky IV.
Creed was the seventh installment of the boxing-themed franchise, and it hit theaters November 25, 2015 — exactly 40 years after the opening scene in 1976's franchise-spawning Rocky. The film went on to become a critical and commercial hit, earning Stallone an Academy Award nomination for his supporting role, among other industry accolades. Although the film's success made a sequel seem likely, it wasn't until October 2017 that Stallone officially confirmed development on Creed 2, and initially indicated that he would take over as the writer, director, and producer on the eighth film — roles he has filled in many of the earlier installments of the series.
Stallone confirmed the sequel — and indicated the roles he would play behind the camera — in an October 2017 post on Instagram.
"Looking forward to directing and producing the incredibly talented Michael B. Jordan in Creed 2 next year," Stallone wrote in the caption of a photo featuring him and Creed star Michael B. Jordan. "One more round!"
Stallone and the studio then announced he would not be directing the film a few months later, with the franchise icon remarking that he wanted a filmmaker on the project who was "a part of this generation like I was in mine."
"The character of Adonis Creed reflects this generation and its challenges," said Stallone in a statement accompanying the announcement. "I believe it's important for the director to also be a part of this generation like I was in mine, to make the story as relatable as possible. We are extremely lucky to have the talented young filmmaker Steven Caple Jr. step up and accept the role of director. I am confident that he and Michael B. Jordan will hit it out of the park!"
Original Creed filmmaker Coogler's departure from the director's chair was reportedly due to his commitment to Marvel Studios' upcoming movie Black Panther, which he co-wrote and directed. Coogler will reportedly remain involved with the rebooted Rocky franchise as an executive producer.
Creed II will now make it an even split between installments of the franchise directed by Stallone and those not directed by him. Along with introducing the world to pugilist Rocky Balboa by starring in the first film, he wrote every installment of the franchise except for Creed (which was co-written by Coogler and Aaron Covington) and directed four of them.  Prior to Creed II, the only films not directed by Stallone were the original Rocky and Rocky V, which were directed by John G. Avildsen, and Creed.
Additional details are scarce regarding the plot of Creed II, but Stallone first began hinting that Dolph Lundgren's Russian powerhouse Ivan Drago could be involved in the film in some form back in July 2017. Stallone then stoked the fires of a potential matchup between Drago and Creed with a post on Instagram that pitted Lundgren's character against Jordan's second-generation boxer.