Sales - Beauty and Style
Deck the halls with beauty!
December 22nd, 2:58 PM CST
Updated:
November 2nd, 3:06 PM CST
By Sheila Mulhern
Provided by WorldNow
Don't get stressed by last minute holiday shopping--there are so many limited-edition, festive selections for all of the beauty-junkies in your life.  If she's a beauty queen that also loves fashion, food, wine, or health, the options to find the perfect gift this season are limitless.  
A diva never crosses a dull moment and excitement follows her everywhere.  For all of your nights out together, maximize your peepers with Benefit Primpcess - Glamorous Eye Primping Kit.  For all the tools needed to contour, highlight, line, and shadow, this all-in-one kit provides a glammified assortment for the biggest diva's holiday outings.  Complete the look with Bad Gal Lash Mascara and one of the five glosses included in the NARS Lip Gloss Collection.  The ultimate bad girl can choose from colors like Harlow, an opalescent pink gloss and Orgasm, a pinky, peach sheen.
In a more budget-conscious economy, getting the best bang for your beauty buck is the latest trend.  At only $25, e.l.f.'s The Beauty Encyclopedia has everything you need for eyes, cheeks, and lips, complete with an application guide.  Another thrifty gift alternative is Too Faced Naughty Or Nice Collection.  Also at under $30, this kit has options to take your look from day to night.  Each side holds three glosses and eye shadow palettes, light and neutral for the day and darker, sexy shades for night. 
This make-up maven loves looking her best while cooking up a storm in the kitchen.  Every sweet tooth will enjoy The Recipe Box from Philosophy which has a trio of their popular shampoo, shower gel and bubble baths.  Indulge in strawberry shortcake, red velvet cake and sweet creamy frosting packaged in a keepsake box with actual recipes for these treats.
The only thing this girl would rather have than a bottle of red or white would be a beauty infusion with her finest vino.  Bring the vineyard to your cosmetic cabinet with Caudalie Vinotherapie Spa In A Box which includes body lotion, hand and nail cream, shower gel and soap.  It also contains best-selling, Crushed Cabernet Scrub, a thick body scrub that exfoliates and nourishes skin.  Each product contains grape-seed polyphenols that protect against skin-aging free-radicals.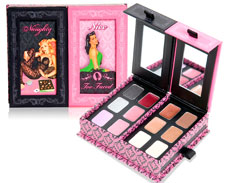 Too Faced Naughty or Nice Collection
© Too Faced
This accessories addict loves stocking stuffers that combine her passion for beauty and fashion. The Tarte, Purse Your Lips Limited Edition Super Fruit Lipgloss Clutch is festive for celebrating the holidays in style.  With nine t5 super fruit complex infused glosses to choose from, she can have something for every occasion held in this metallic, snakeskin embossed clutch.  If jewelry is more her thing, then Yves Saint Laurent The Bow Collection - Duo Lip Colour Palette is a lip gloss duo designed in a charm inspired by the famous YSL "Bow" bag.  She can attach it to her most stylish bag or key ring and use when a quick touch up is needed.
Does she dream of starring on American Idol or at least acing the look?  Then Too Faced, World Domination Tour All Access Backstage Beauty Collection will hold everything she needs for the best on-stage look.  This chic, musical jewelry box holds everything needed for a Grammy award-winning look.  Jammed with edgy shadows, liners, glosses and bronzer, it holds all that she needs to make a show stopping appearance out with friends or on the red carpet.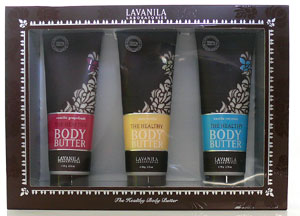 The Healthy Gift Set Body Butter Set
© Lavanila
The purest ingredients rule when gift giving to your organic pal.  For all-natural skin, give the The Healthy Body Butter Gift Set from Lavanila Laboratories, a trio of paraben-free body butters have natural, active ingredients that allow for fast skin absorption that maximizes hydration.  If she's a sucker for candy canes, then Burt's Bees Mint Medley Gift Set is holiday treat.  Peppermint oil is a proven healing agent that can repair and reinvigorate skin; this set will cover everything from your lips to your feet.
Would a seaweed detox wrap brighten this spa-obsessed girl's day?  It's hard to imagine how anyone wouldn't enjoy being indulged with a massage or a facial.  Why not give the top products from her favorite spa, like the Best of Bliss Set, containing The Youth As We Know It Moisture Cream, Lemon + Sage Body Butter, and Triple Oxygen Instant Energizing Mask?  All come in the classic blue tote that is sure to bring a serene smile to your friend's face.