First full moon of the new decade.
Updated: Jan. 10, 2020 at 4:08 PM CST
MANKATO, Minn. (KEYC) - Alright night sky enthusiast, tonight will be the first full moon of the new decade. January's full moon is often referred to as the Wolf Moon. To experience tonights Wolf Moon and first full moon of the new decade, look to the east sky around 5:00 PM tonight, January 10th.
Viewing tonights full moon near the horizon may be difficult for much of southern Minnesota as the forecast continues to show a mostly cloudy sky. The best viewing will be in places north and west where cloud cover will be limited. If you plan to travel to clearer skies to the north and west, bundle up as temperatures will be well below zero. A wind chill advisory is also in place in areas where there will be clearer skies, for wind chills ranging from -25 to -35 below.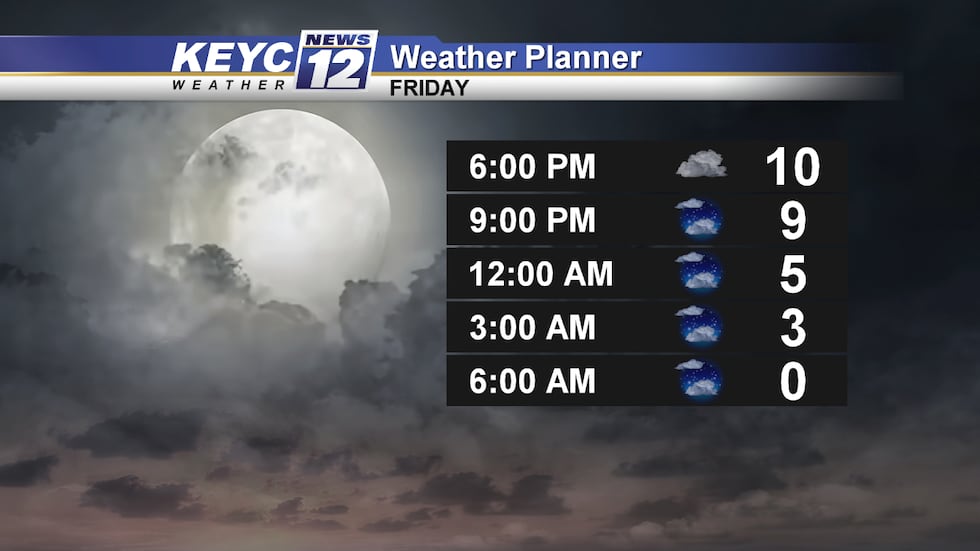 Other parts of the world have a chance at seeing the Penumbral Lunar Eclipse associated with tonights full moon. A Penumbral Lunar Eclipse occurs when the Sun, Earth, and the Moon are imperfectly aligned. The Earth blocks some of the Suns light from completely lighting up the moon. This will not case complete darkness but rather produce a darker than normal full moon. Bad news for us in North America, tonights Penumbral Lunar Eclipse will not be visible. Areas that will have a chance at seeing the eclipse include Asia, Europe, Africa and Australia. Even some parts of Alaska and Canada may have a chance at viewing tonights first eclipse of the year.