Where do rainfall and precipitation reports come from?
Updated: May. 18, 2020 at 10:04 PM CDT
MANKATO, Minn. (KEYC) -After a soaker of a weekend lets talk about rainfall totals and where KEYC gets their data. Accurate rainfall totals are important data for not only meteorologist and the National Weather Service (NWS) but also for hydrologist, engineers, city utilities, emergency management, and farmers. When it comes to rainfall it should be noted that rainfall does not fall evenly and not all rain gauges record the same. Rainfall totals can be found multiply ways, here are just a couple ways that KEYC gets its data.
One-way rainfall is collected is from the Automated Weather Observing Systems (AWOS) and Automated Surface Observing Systems (ASOS) that are situated across the United States, often found at local airports. AWOS and ASOS stations serve both aviation and meteorological observing needs and have joint ownership between the Federal Aviation Administration (FAA) and the NWS. To find the nearest AWOS or ASOS station near you visit weather.gov, search for your hometown in the upper left and to the right of the current conditions click on 3-day history. Here is the link to Mankato, MN data https://w1.weather.gov/data/obhistory/KMKT.html .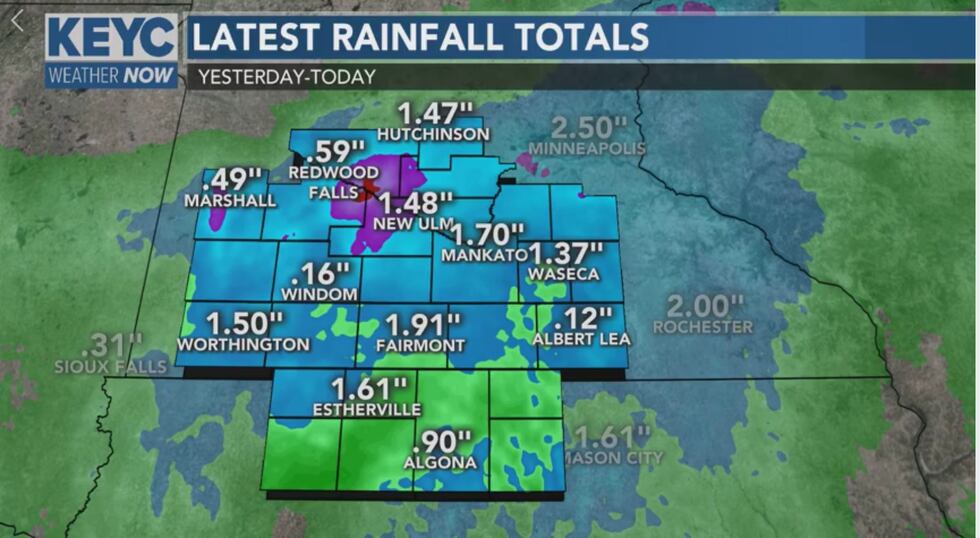 These observing stations use a heated tipping bucket precipitation gauge, that has a 12-inch diameter collector funnel with a dual chamber tipping bucket that tips when one chamber is filled with 0.01" of liquid precipitation. An electronic switch counts the number of tips per minute. So, 10 tips in one minute would equal 0.10" of rain. This data is collected and sent out automatically and utilized by various weather observers. Tipping bucket precipitation gauges are great in that they are hands off and can send minute and hourly precipitation reports, but they do have flaws. In the NOAA ASOS user guide, they state that "major problems can occur during high rainfall rate events when the tipping bucket cannot keep up with the water flow and under-reports the accumulation". To fix this error the ASOS program has an algorithm to correct the tipping bucket measurement. Tipping bucket precipitation gauge will run into this error only when rainfall rates reach 1.8″ per hour.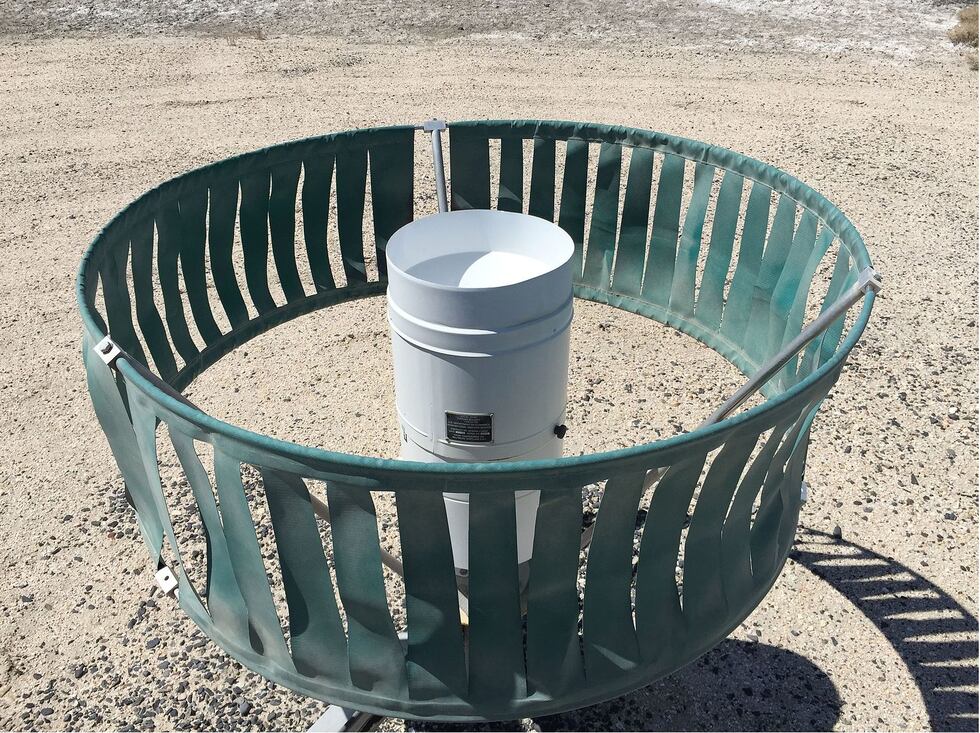 Another way to get latest precipitation information is by using CoCoRaHS data. CoCoRaHS stands for Community Collaborative Rain, Hail and Snow Network. Anyone can join this network to send in rain, hail and snow reports that are used by various individuals and groups, including the NWS, hydrologist, local meteorologist and farmers.
They ask their volunteers to post there data anywhere from 7-8 AM in the morning so if you are looking for data from later in a day you will most likely have to wait till the following morning for evening and overnight reports. They would also like their observers to not use their own rain gauges, this includes home automated rain gauges, but rather the CoCoRaHS 4" diameter rain gauge, which you can purchase through CoCoRaHS. They do this to keep the data the same for everyone who is part of their research efforts.
According to their site and through studies with the Colorado Climate Center, "a majority of automated rain gauges, when summed over several months or years, report less precipitation than actually fell by a significant amount, sometimes 25% or more". Through their research they have also found that the NWS 8" rain gauge and their 4" rain gauge compare well with each other and that the CoCoRaHS gauge has a collection efficiency of 101 to 105%. To see their daily precipitation reports and or join in their collaborative precipitation network you can visit https://www.cocorahs.org/.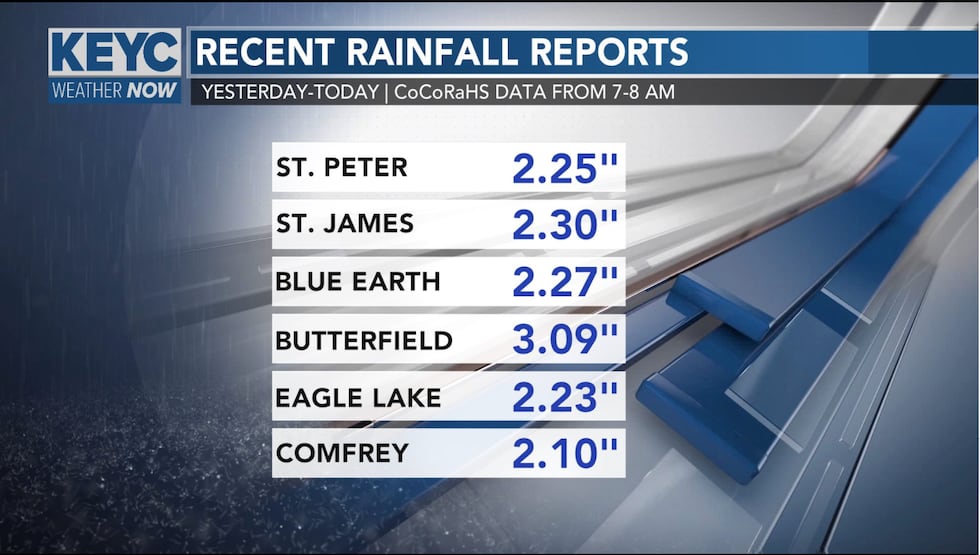 Lastly rainfall reports can come directly from the NWS, often recorded from storm spotters and local observers across the area. These are often referred to as storm reports and can be found by visiting https://nwschat.weather.gov/lsr/.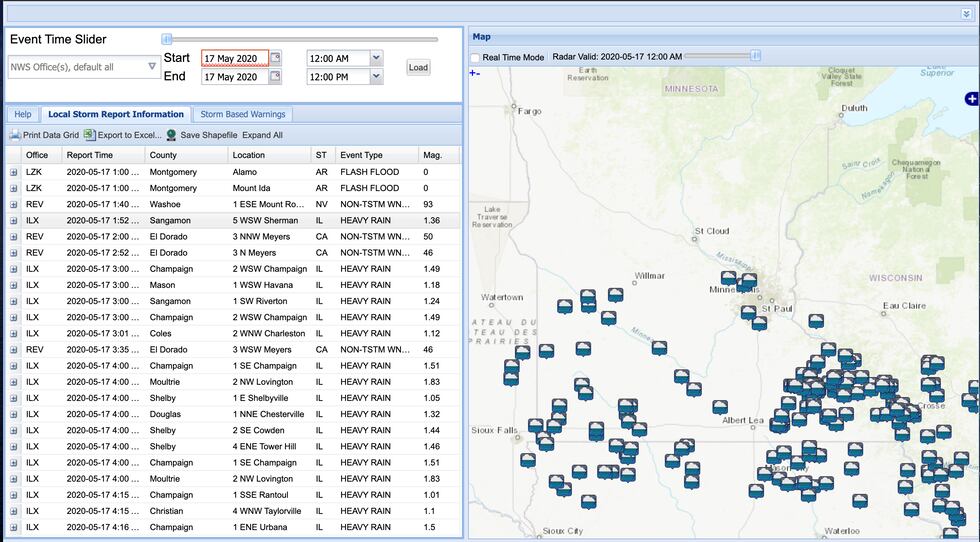 There are a couple other ways to get rainfall totals, but these are often the most reliable and most accurate data sets out there. So, when it comes to rainfall totals, KEYC News Now uses a combinations of AWOS/ASOS, NWS, and CoCoRaHS data as their main source of information.
Copyright 2020 KEYC. All rights reserved.