Upper level ridge and our hot temperatures
Updated: Jun. 16, 2020 at 2:32 PM CDT
MANKATO, Minn. (KEYC) -The sun will be heating things up over the next couple of days across south and western Minnesota due to a slow-moving upper level ridge. Slow progression of this ridge is caused by an upper level cut off low that is situated over the Mid-Atlantic. The upper level ridge will help generate temps in the 90's, with some locations nearing triple digits, through Thursday before cooler air arrives heading into the weekend.
Today's blog focuses on upper level ridges (AKA upper level highs). You may have heard a KEYC News Now Meteorologist mention upper level ridge before and associate it with warmer temps and drier conditions ahead. So, what is an upper level ridge and why does it cause warmer or in this week's case hot temperatures.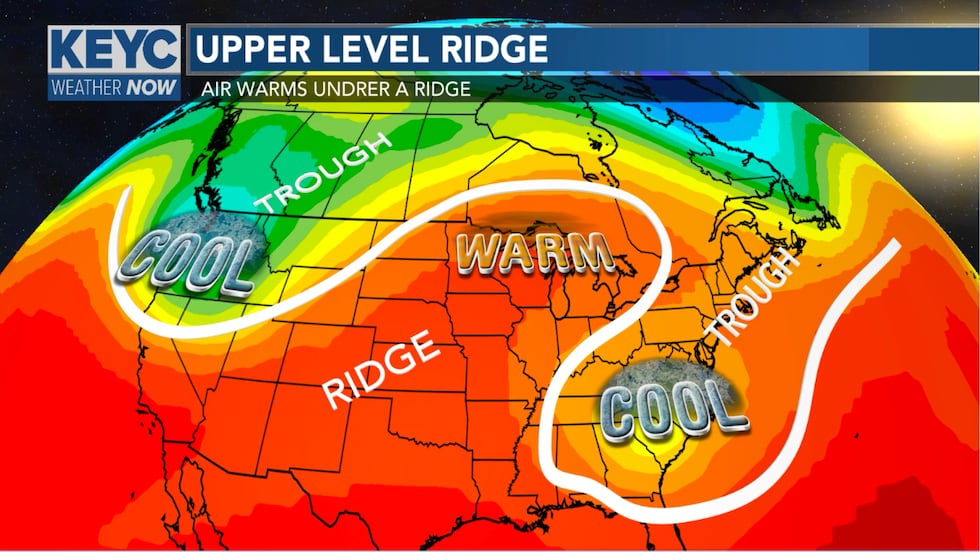 An upper level ridge occurs when height contours bend to the north (as depicted in the diagram above). This bend upward is caused by a broad region of sinking air or by an area associated with a deep warm air mass. Since ridges are associated with sinking air, they tend to cause warm and drier conditions at the surface.
Ridges and its counterpart, troughs can be analyzed by using upper level maps such as 850, 700, 500 and 250 millibar maps. Upper level lines depicted on the 250 mb diagram below are known as geopotential height lines. Geopotential height approximates the actual height of a pressure surface above mean sea-level. Lines on the map below connect points of equal heights (in meters) and are known as height contours or isohypes.
A height is a primary function of the average temperatures of the air below that surface. What the heck does that mean? In our example below we are looking at the geopotential lines at the 250 mb heights and the height value is based on the average temperatures between the surface and 250 mb. As the temperature warms between the surface and 250 mb the air becomes less dense or more separated causing height values to rise.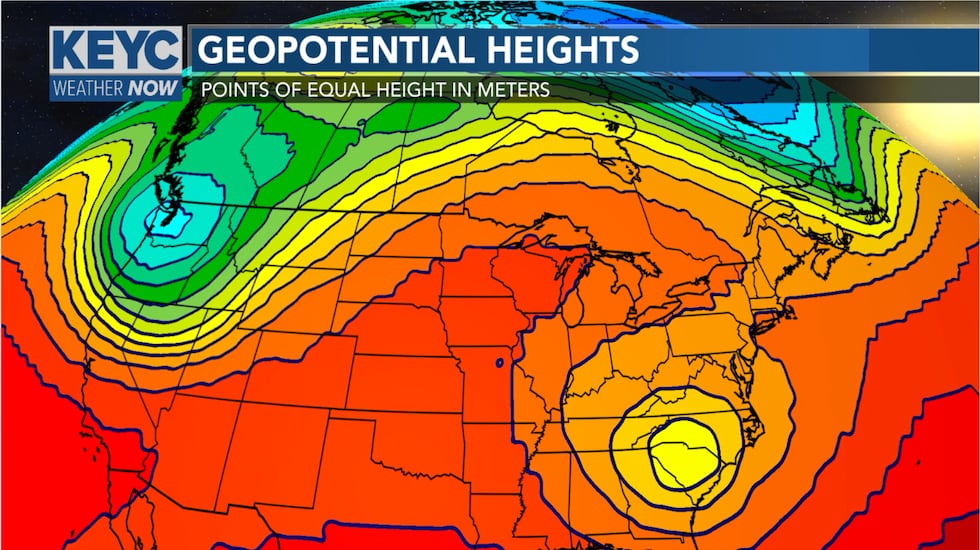 Ridges are also known as upper levels highs which means the air underneath the ridge sinks towards the surface. As air sinks it not only inhibits cloud development, but the cooler air aloft warms adiabatically. Adiabatically? Adiabatic heating occurs as a mass of air descends in the atmosphere by either downslope from a mountain range or in this case encounters increasing atmospheric pressure. Still confused? Think of it this way. Pressure gets lower as you travel further away from the surface. So cooler air aloft that sinks towards the surface encounters higher pressure as it falls resulting in a warming process.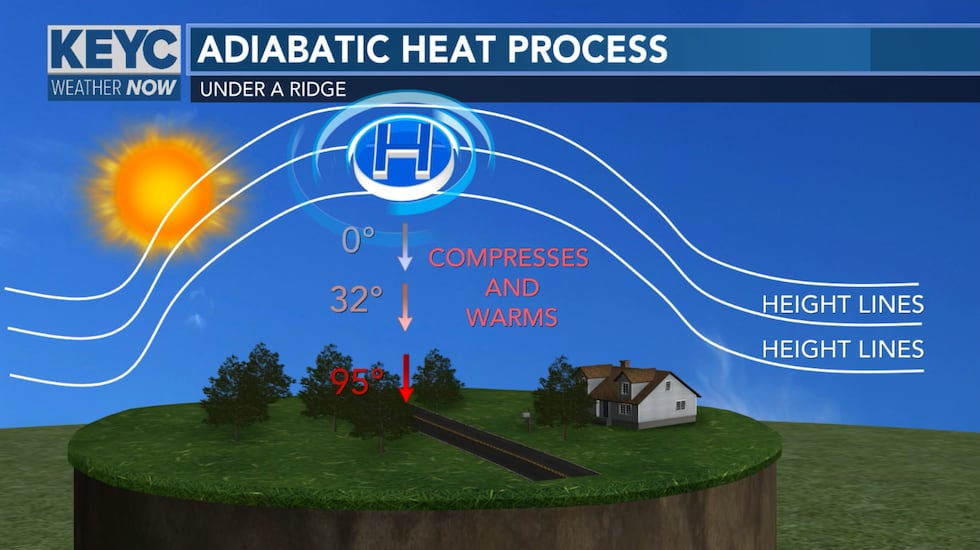 Higher height values are associated with warmer temps and when you have warmer temps aloft that go through a process of adiabatic heating you end up with warmer temps at the surface.
This upper level ridge process plus the strong southerly winds are help produce hot temperatures through Thursday.
Copyright 2020 KEYC. All rights reserved.