National Lightning Safety Awareness week, June 21st to June 27th
Statistics and safety tips to remember while out and about this summer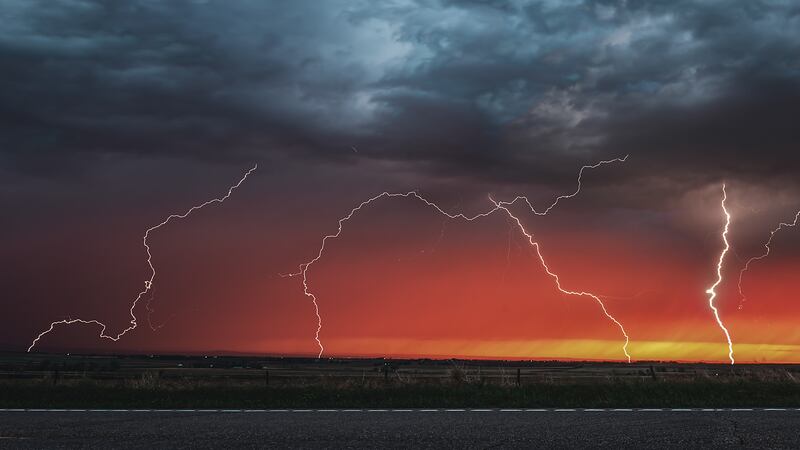 Updated: Jun. 23, 2020 at 4:03 PM CDT
MANKATO, Minn. (KEYC) -June 21st to June 27th is National Lightning Safety Awareness week. This week is dedicated to draw attention to the underrated killer that is lightning. National Lightning Safety Awareness week started back in 2001 and since then the U.S. lightning fatalities have dropped from 50 a year to less than 30.
The peak months for lightning activity across the U.S. are June, July, and August and is also the time of the year when people are more likely to be outside enjoying the summer weather. Because this is the most active time for lightning and more people are outside, the months of June, July, and August, make up more than 70% of all lightning deaths. Lightning deaths have been recorded during all days of the week with slightly higher numbers during the weekend with Saturday being the highest.
Based on 393 cases from 2006 to 2018, men make up 80% of all lightning fatalities with most occurring between the ages of 20 to 29. Lightning deaths to women are highest between the ages of 50 to 59.
If you have seen the movie Caddyshack you may recall the part when the Bishop is playing his best round of golf during a thunderstorm. Spoiler alert, during the final moments of the scene the Bishop misses his final putt to set a new course record, raises his putter up to the sky in frustration and then is struck by lightning.
This scene pulls on the common myth that golf is responsible for the greatest number of lightning deaths. Fact, the leading outdoor activity associated with lightning fatalities is fishing, with beach going and camping falling in the number 2 and 3 spots. Golf falls in the number 6th spot behind soccer.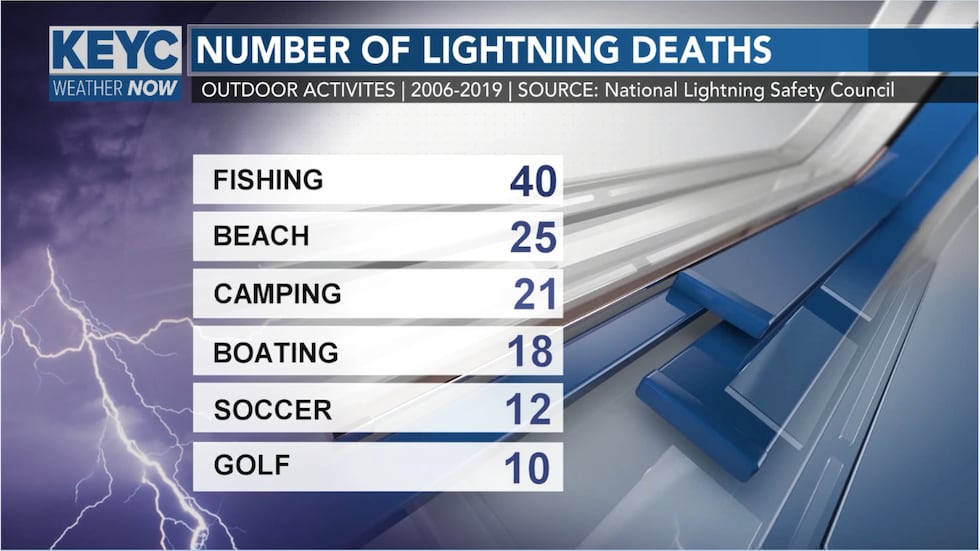 People are often struck by lightning while in the process of wrapping up activates or while heading for shelter. In some cases, they are just steps from safe shelter when struck. This is why continued efforts are needed to educate people on getting to safety before lightning becomes life threatening.
Here are some lightning safety tips to help keep you safe while enjoying outdoor activates during these summer months.
1. Plan ahead! Check the forecast before enjoying outdoor activities. If there is a chance for thunderstorms make sure to not stray too far from shelter. The KEYC News Now weather app is a great way to help plan out your day.
2. When thunder roars, go indoors or see a flash, dash inside. Don't wait to seek shelter. Most people are struck on their way to safety because they waited too long.
3. Safest places to be during lightning are in sturdy buildings and hard-top vehicles with the windows rolled up. Picnic shelters, tents, trees, portable restrooms, baseball dugouts are NOT safe from lighting.
4. If you are caught in an open area, crouch down in a ball-like position (feet and knees together) lean forward on your feet so you are making minimal contact with the ground. Do NOT lie down as you are creating more contact with the ground. Lighting can travel along the ground and strike over 100 feet away so if in a group spread out.
5. Finally wait 30 minutes after you hear the last roar of thunder before heading back outside. Lighting can strike 10 miles away from the nearest heavy rain shaft.
Copyright 2020 KEYC. All rights reserved.