Derecho weather event Monday August 10th, 2020
What classify's a storm as derecho event.
Published: Aug. 11, 2020 at 4:17 PM CDT
MANKATO, Minn. (KEYC) - Monday August 10th, 2020 a strong storm complex produced severe wind damage across Iowa, Illinois and parts of Indiana. Winds of 75 plus miles per hour caused widespread damage to trees, power lines, toppled semi-trucks, and even caused some minor structural damage.
One of the highest official wind gusts recorded with this storm complex was 99 mph at the Marshalltown, Iowa Airport with an unofficial wind gust of 106 mph recorded in Le Grand, Iowa.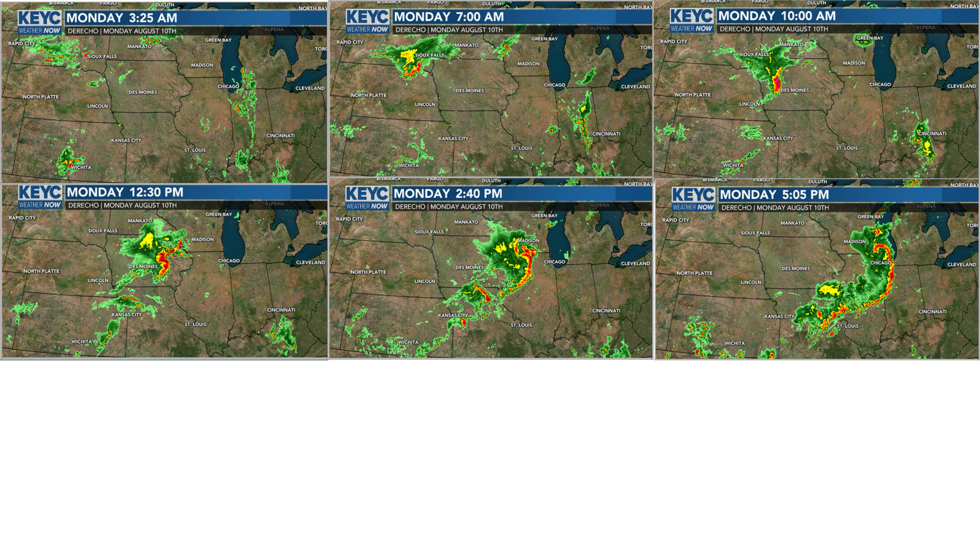 The complex storm system also produced 4 brief tornadoes along its path. Tornadoes occurred in southwestern and southeastern Wisconsin, north of Chicago, and in north-central Indiana all with a ratting of EF-0 out of 5 on the Enhanced Fujita Scale.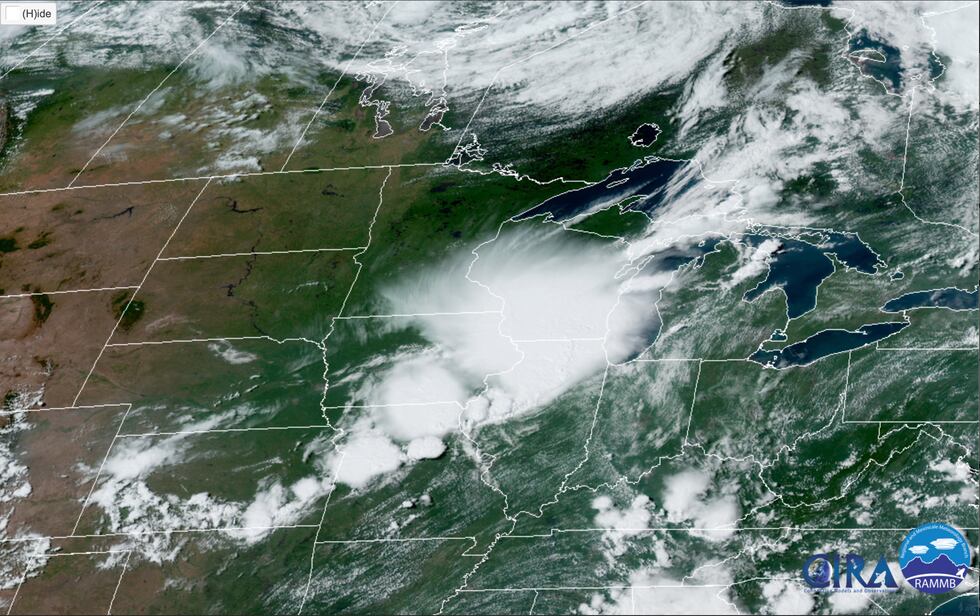 This type of storm complex is rare but not uncommon for this time of the year and is known as a derecho (deh-REY-cho). A derecho is a very long lived and damaging thunderstorm. A storm is classified as a derecho if wind damage swath extends more than 240 miles and has wind gust of at least 58 mph or greater along most of the length of the storm's path (National Weather Service).
Derecho can produce destruction similar to the that of a tornado however damage typically occurs in one direction along a relatively straight path resulting in the term "straight-line wind damage". Straight-line wind damage and derechos are associated with bow echoes, squall lines, or quasi-linear convective systems (QLCS).
Although these storm complexes are usually known for their straight-line wind damage, tornadoes cannot be completely ruled out. Tornadoes, if they develop, can result in more severe localized damage.
In the United States, derecho most commonly occur in two locations. First is along the "Corn Belt" which is located from upper Mississippi Valley southeast into the Ohio Valley. Another is across the southern Plains northeast into the mid-Mississippi Valley.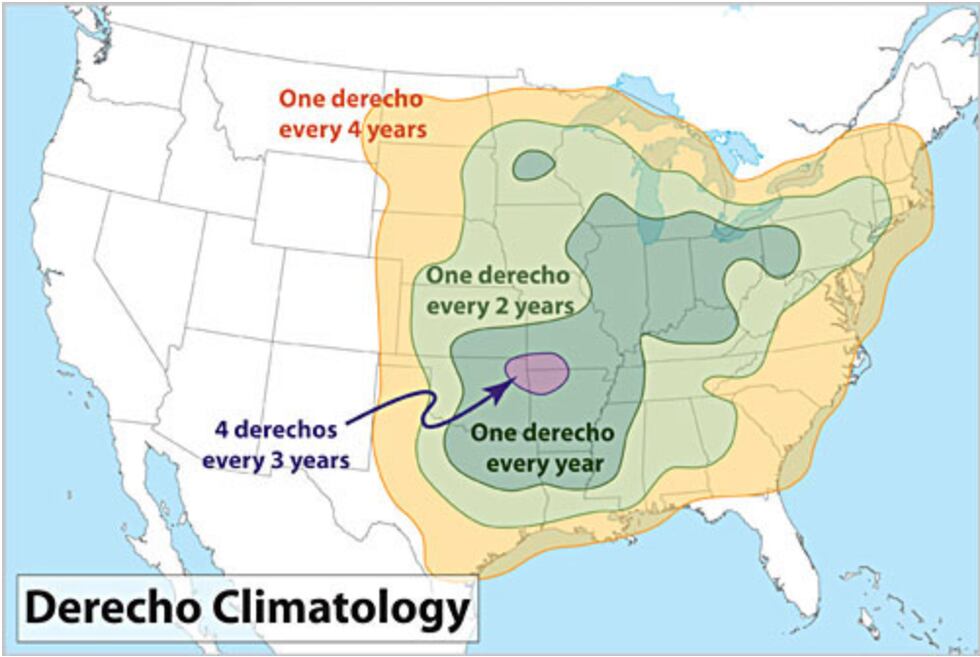 70 percent of all derechos occur during the warm months of May-August. Although rarer, derechos can occur during the months of September through April but form in Texas and across states in the far southeast.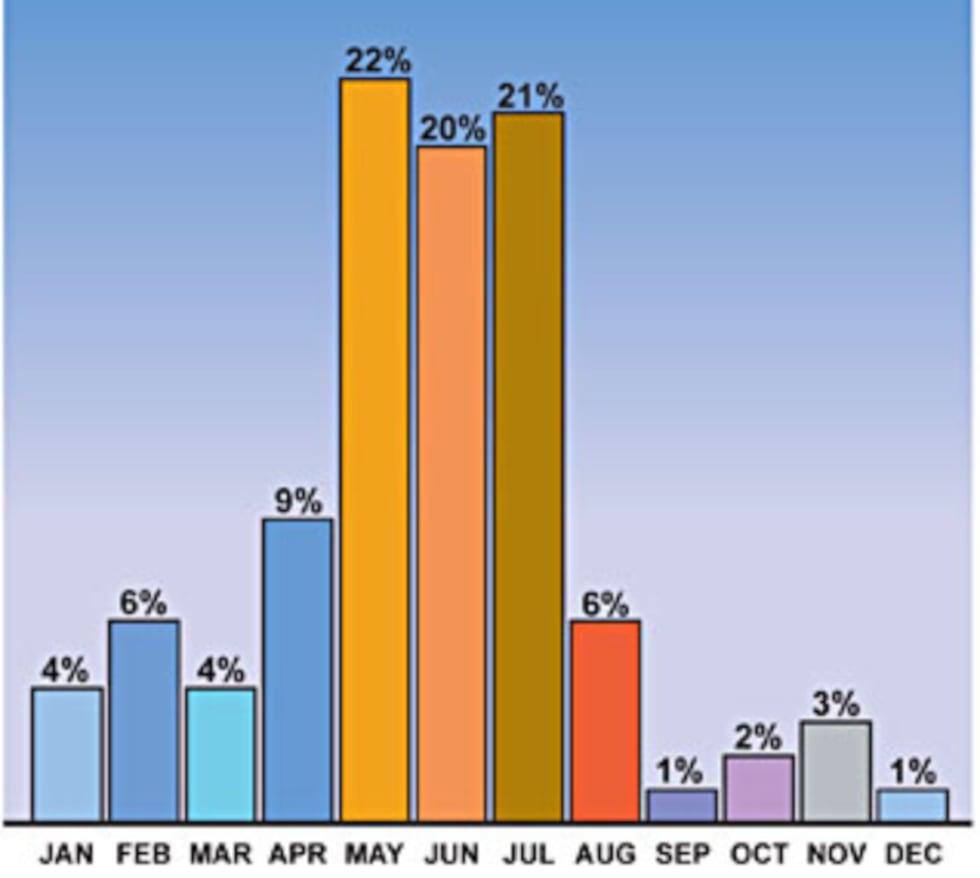 Copyright 2020 KEYC. All rights reserved.