Meteorological vs Astronomical Seasons
Updated: Dec. 1, 2020 at 2:48 PM CST
NORTH MANKATO, Minn. (KEYC) - Today is the start of meteorological winter! You may be asking yourself "well when does non-meteorological winter start?" Non-meteorological or astronomical winter starts on December 21st of this year. Why are there two starts to our winter? There's actually two starts to every season. You have your meteorological seasons, and you have your astronomical seasons. Why two different seasons?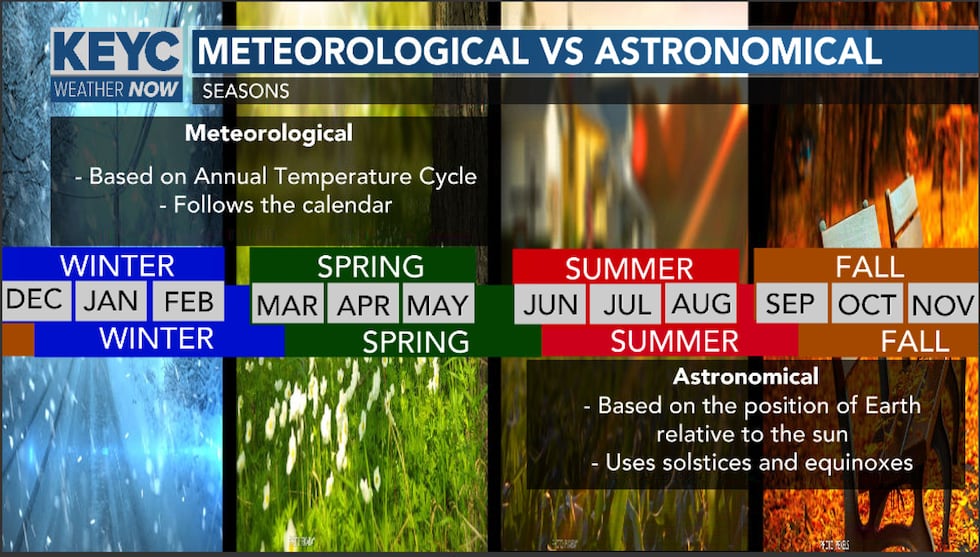 We have two different seasons because us meteorologist and climatologist are weird. OK we are not that weird, just a little bit weird but really just want to make things simple. Meteorological seasons follow the annual temperature cycle, whereas the astronomical seasons follow the position of Earth in relation to the sun.
The Meteorological Season
Meteorological seasons has been around since the early to mid-20th century. Meteorologist and climatologist break the seasons down into groupings of three months based on the annual temperature cycle as well as our calendar. For example, meteorological winter includes December, January, and February, then as we head into spring that includes March, April, and May. Your summer will follow suit, which is June, July, August and fall will finally include September, October, and November.
When it comes to calculating yearly, seasonal, and monthly averages, the metrological seasons makes it easier. Instead of adjusting dates, like that of the astronomical seasons, the start and the length of meteorological seasons are more consistent. Day's between seasons are from 90 during the winter, 92 for both spring and summer with 91 for our fall. Only adjustment to be made is during a leap year.
The Astronomical Season
The astronomical season has been around for thousands of years and is based on the rotation of Earth around the sun. The Earth's tilt on its axis is what causes our astronomical seasons. The seasons which have two solstices, which describe our shortest day (winter) and our longest day (summer) of the year. They also have two equinoxes, which are our transitioning months of spring and fall.
Our winter solstice begins on December 21st of this year and will last until our Spring equinox begins on March 20th. During our winter the northern hemisphere is tilted away from the sun resulting in shorter day's and cooler temperatures. During our spring and fall equinox, the sun is directly over the equator resulting in near equal day and night. During our summer solstice, which is set for June 20th of this year, the northern hemisphere is tilted toward the sun resulting in our warmest months. Earth stays the same, but seasons flip if you are in the southern hemisphere. Under the astronomical seasons, days between the next season can shift from 89 to 93 days, making it more difficult to calculate seasonal data.
Copyright 2020 KEYC. All rights reserved.