Severe Weather Awareness Week: Alerts and Warnings
Know the difference between a watch vs. a warning, make a plan, and have a way to receive alerts.
Published: Apr. 12, 2021 at 7:07 PM CDT
|
Updated: Apr. 4, 2022 at 2:43 PM CDT
NORTH MANKATO, Minn. (KEYC) —
April 4th through the 8th is Severe Weather Awareness Week in Minnesota and Wisconsin.
The week serves as a time to re-inform everyone about the seasonal threats from severe weather and how to stay safe while enjoying the warmer months ahead. Today we kick off the severe weather awareness week by talking about alerts, warnings, and how you can receive them.
When it comes to severe weather alerts, watches and warnings often get mistaken for one another.
A watch is issued when conditions are favorable for severe weather development. They typically last hours and cover a large area. During a watch, you can continue with your day-to-day routine but stay up-to-date with the latest forecast and watch for changing conditions.
A warning is issued when severe weather is occurring or is imminent in the area. Warnings typically last 30 to 60 minutes and cover a small area. During a warning, seek shelter immediately. If you are in your car, try and avoid the severe weather if possible, drive to a sheltered area, or last resort, exit your vehicle, lie flat in a ditch and shield your head with your hands.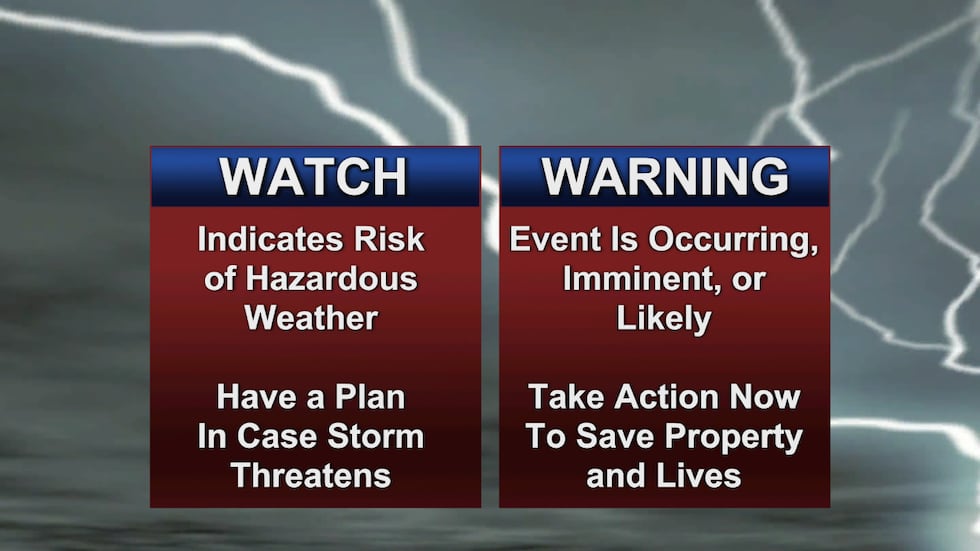 Another way to compare a watch vs is a warning is to think of it as if you are making tacos. A taco watch would mean that you have all the ingredients ready to make tacos but you are not ready to eat. A taco warning would mean the tacos are ready to go.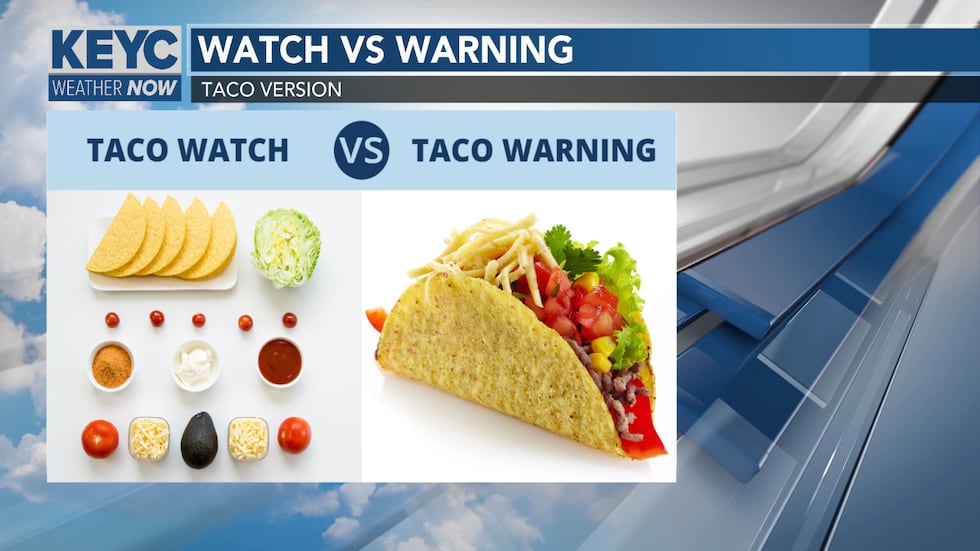 When preparing for severe weather season it's important to have multiple ways to receive alerts. A great way to get the latest forecast and the latest severe weather alerts in your area is by downloading the KEYC News Now Weather App. Don't rely solely on the weather app, make sure to pair it with another alert system.
You can pair the weather app with an NOAA Weather Radio (NWR). The NWR broadcasts official weather service warnings, watches, forecasts,s and other hazard information 24 hours a day, 7days a week.
When out and about, there are two added ways to receive alerts. The first is from the tornado sirens located around your neighborhood. Note that tornado sirens are not run by the National Weather Service but by each county themselves. Therefore, each county has different criteria as to when they would sound the siren. To find out what criteria your county sounds the siren, call your city or local office for more information.
A second way to receive alerts while out and about is via your phone from Wireless Emergency Alerts (WEA). WEA are emergency messages sent by authorized government alerting authorities through your mobile carrier. No sign-up is required!
Finally, you can always get the latest alerts from your radio and TV. Don't have a TV, don't worry. You can catch all the latest news and severe weather by heading over to keyc.com.
Copyright 2022 KEYC. All rights reserved.