UPDATED: Natural gas believed to be cause of home explosion that injured 3 people in Le Mars, IA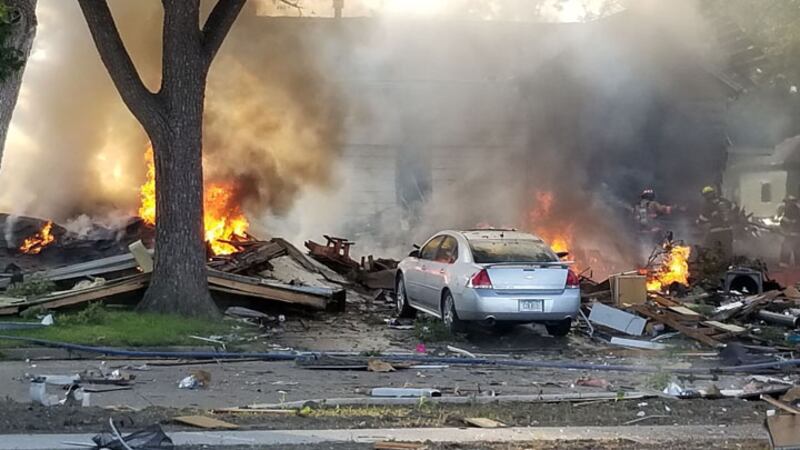 Published: Jul. 13, 2022 at 8:03 AM CDT
|
Updated: Jul. 13, 2022 at 9:21 AM CDT
UPDATED:
LE MARS, Iowa (KTIV ) - Investigators believe the cause of a fire that destroyed two Le Mars, Iowa, homes was natural gas inside the home had built up. They believe that gas was ignited when a water heater was being lit by a subject in the home's basement.
Two online fundraisers have been set up for those affected. Both are held on the online platform GoFundMe and were verified by the platform as legitimate.
Le Mars Fire Rescue Department was called to the house explosion, at 327 3rd Street SW, at about 6:30 a.m. Wednesday morning. The house is owned by Bill Anthony of Le Mars and rented by Jeff Dimmock.
Firefighters encountered heavy smoke and flames coming from debris and material from the home. A second home to the east, at 321 3rd St SW, received fire damage and the west wall of this home was penetrated by flying debris. This second home had fire throughout the interior on the main floor and second floor. A third home at 315 3rd Street SW had the rear exterior wall of the home start on fire from falling flaming roof material from the original house that exploded.
Firefighters found three injured people upon arrival. One male subject was assisted from the basement of the home and had burn injuries. Another male subject was in the street with some burn injuries. A female subject was located trapped under debris and was quickly rescued by firefighters. All three of the individuals were treated and the scene by Le Mars Fire Rescue. Two of the subjects were transported to Floyd Valley Healthcare in Le Mars. They were treated and have been released. The other male subject, who was identified as homeowner Bill Anthony, was taken by Le Mars Fire-Rescue to Mercy Hospital in Sioux City and then airlifted to St. Elizabeth's Hospital in Lincoln, Nebraska. Anthony is being treated for burn injuries and is in stable condition.
The house at 327 3rd St SW is a total loss, and the house at 321 3rd St SW is also a total loss from the explosion and subsequent fire. The third house at 315 3rd St SW was saved and is livable.
The explosion was felt in several parts of the community. Damages to more than 14 other properties in the 3-block area near the explosion have been reported. Those damages vary from broken windows, broken garage doors, to soffits being shaken loose, to stuff blown or shook off walls in homes.
Total damage could top $350,000.
Firefighters were on the scene for over 5 hours.
PREVIOUS:
LE MARS, Iowa (KTIV) - Three people were sent to the hospital after an early morning house explosion in Le Mars, Iowa.
The explosion was reported around 6:30 a.m. Monday at the corner of 3rd Street and 4th Ave SW. A fire broke out after the explosion which took firefighters several hours to get fully extinguished. Le Mars Fire and Rescue currently believes this was an accident caused by natural gas. They believe natural gas built up inside the house and was ignited when the water heater in the basement was lit.
"Station one sits about five blocks from here, it actually had some things blown off the fire station. The crews there were alerted right away because of that," said Chief David Schipper with Le Mars Fire and Rescue. "Straight up and then it just rained down everywhere. So our debris fields were within a quarter of a block here."
When firefighters got to the scene they found three people injured. One man had to be removed from the basement and had burn injuries. Another man was found walking in the street with some burn injuries. And a woman was located trapped under debris but was quickly rescued by arriving firefighters.
Those three were taken to various hospitals to be treated. Two were sent to a Le Mars hospital, and officials say they have been treated and released from the hospital. The third person, Bill Anthon who is the owner of the house that exploded, was initially sent to a Sioux City hospital before being taken to the burn center in Lincoln, Nebraska. He is currently in stable condition.
Officials say the house that exploded, located at 327 3rd Street SW, has been completely destroyed, with a crater where it once stood and debris scattered across the neighborhood. In addition, the house next to it, 321 3rd Street SW, received heavy fire damage and is a total loss. A third house near the explosion was also damaged but was saved and can be reoccupied.
Officials say more than 14 other properties in the 3-block area around the explosion reported some sort of damage. Those reports ranged from broken windows and garage doors to stuff being shaken off walls inside people's homes.
Le Mars Fire Chief David Schipper compared the damage to surveying after a tornado. Crews were surveying the damage Wednesday morning, but one thing is for certain, the explosion was powerful.
"I come outside and just see smoke a couple of blocks from my house and this is just devastating...I could see, I live about two-three blocks away to the northeast and I could see flames plain as day above the trees. That's when I knew something crazy had went on," said Robert Trobaugh, a resident of Le Mars.
Le Mars Fire and Rescue was assisted by Orange City and Sioux Center, along with the Plymouth County Sheriff's Office and the Le Mars Police Department. MidAmerican Energy was also at the scene.
Copyright 2022 KTIV. All rights reserved.