13-year-old died from rare condition doctors believe Bills' Damar Hamlin suffered from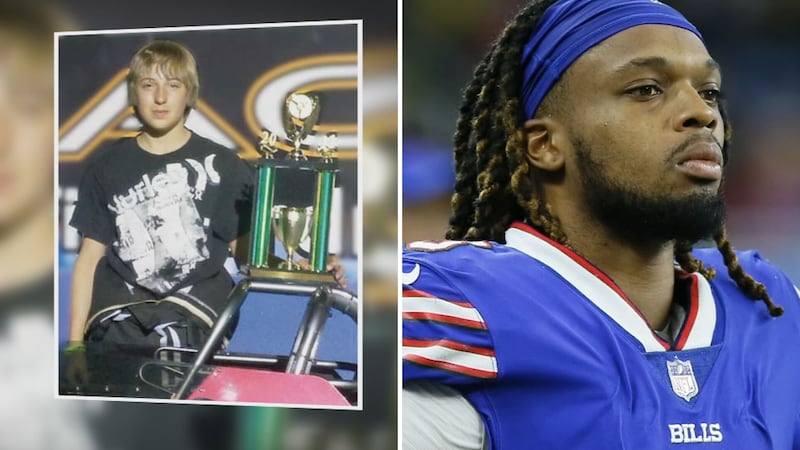 Published: Jan. 4, 2023 at 10:33 AM CST
PHOENIX (KPHO/Gray News) - People are still searching for answers after Buffalo Bills safety Damar Hamlin collapsed midgame following a tackle Monday night.
The Buffalo Bills said in a tweet he suffered cardiac arrest and is in critical condition. While we don't know Hamlin's diagnosis, medical experts are weighing in on what they believe happened.
Many say he suffered a medical phenomenon called commotio cordis.
"It is a heavy blow to the chest and it has to be exactly at the right spot and it has to be timed exactly at the right, literally a couple milliseconds either way and we're not having this conversation," former trauma anesthesiologist Dr. Edward Westerfield said.
Experts say it is extremely rare, and it mostly impacts baseball players. However, it happened to an Arizona teen in 2011.
Hayden Walton turned to bunt a ball, but it hit his chest instead. The 13-year-old collapsed on the field and later died.
It was a tragedy that spurred research at the University of Western Ontario to better understand the condition and ways to prevent it. The study was published last year.
"[We] identified these potentially vulnerable impact locations over the chest that are currently being ignored by the current safety regulations and current chest protectors on the market," said researcher Grant James.
James said they identified new metrics for safer sports equipment and hope their research spurs change.
"In the last 10 years, it has improved; chest protectors have improved. They are still not 100 percent effective, so I really think that using the data and analysis that we have used from our studies really can help to create chest protectors and creating safer testing and metrics for this," he explained.
Copyright 2023 KTVK/KPHO via Gray Media Group, Inc. All rights reserved.