First steps of cancer research happening at Hormel Institute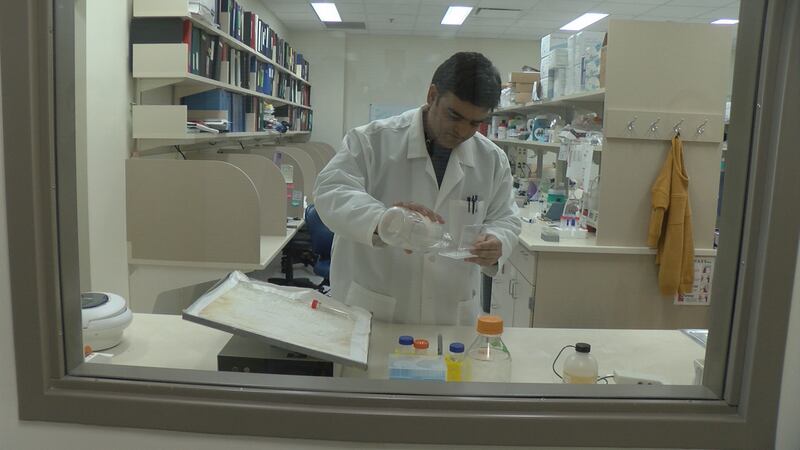 Published: Jan. 9, 2023 at 6:37 PM CST
ROCHESTER, Minn. (KTTC) – The 69th Eagles Cancer Telethon is less than a week away. Dozens of local organizations and individuals will be showing their support in funding local cancer research. One organization that's receiving some of that funding is the Hormel Institute in Austin.
For more than the past 20 years, the Hormel Institute has nearly exclusively focused on cancer research. Since 1999, the telethon has donated close to $4 million to continue that cutting-edge research.
Researchers at The Hormel Institute in Austin study treatments for all major cancers.
"Because we're small, we can be very moveable to direct research where it's needed and wanted by our community," Hormel Institute Development & External Relations Director Gail Dennison said.
The annual Eagles Cancer Telethon supports the Institute's mission by donating hundreds and thousands of dollars each year.
It's a region-wide effort, calling on the support of many different communities.
"This research would not take place without these community-funded donations," Dennison said.
Researchers Jasvinder Singh and Anil Yadav are working on finding new treatments for breast cancer.
"Our main focus is to find some kind of new therapy that will be helpful for the patients," Singh said.
A lot of the first steps of worldwide medical research happens at the Institute.
"This fellowship has given us the foundation stone, so we are actually working on that. We are generating some of the preliminary data," Singh said.
"You're climbing out of the box. You're looking at the problem differently and getting that data that the rest of the scientific world will then look at," Dennison said.
It's an ongoing process that depends on annual funding like the telethon.
"All discoveries don't come in a single day. We have to keep patience for two months, one year, two years, five years, 10 years," Yadav said.
Some researchers have a personal connection with the fight against the disease.
"My father was also suffering from the cancer. He was having colon cancer. So that's when I decided, because we have suffered from kind of disease," Singh said.
Another cancer research fundraiser kicking off this week is Paint the Town Pink in Austin. It's an annual event that raises money for the Hormel Institute. Events include ice fishing, cornhole and trap shooting competitions. It kicks off Tuesday and goes until the end of February.
Copyright 2023 KTTC. All rights reserved.