Bullet went through victim's shirt in New York Mills shooting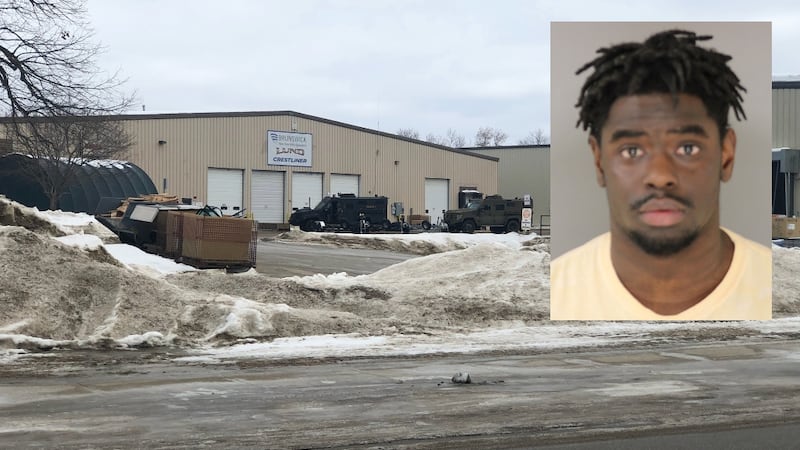 Published: Feb. 13, 2023 at 9:57 AM CST
NEW YORK MILLS, Minn. (Valley News Live) - An employee at the Brunswick Boat Factory in New York Mills, Minnesota, has been formally charged after authorities say he opened fire at his workplace on February 9.
David Gadsden is charged in Otter Tail County with Attempted Murder, Assault with a Dangerous Weapon, Intentional Discharge of Firearm That Endangers Safety, and Carry/Possess Pistol without a Permit. Gadsden appeared in court on February 10 and a judge set bail at $1 million without conditions or $40,000 cash with conditions.
Newly filed court documents explain what the victim says happened on the morning of February 9. The victim says he was working on a boat hull and had a question on how to complete his job so he asked Gadsden a question. Court documents say Gadsden became angry and yelled at the man, so he turned away and asked another employee.
The victim says he approached Gadsden to ask him what was wrong and Gadsden pulled a handgun from his waistband and pointed it at him. The victim says Gadsden pulled the slide back and charged the weapon, so he started moving away but Gadsden followed him. As the victim approached an exit, he says Gadsden fired a shot at him. He ran outside, but says Gadsden ran after him and fired a second shot.
Police say an employee held the door shut so the Gadsden was not able to get back into the building. Other employees restrained the shooter before law enforcement arrived.
"Had it not been for the quick actions of Lund staff members, the outcome may have been much worse," The Otter Tail County Sheriff's Office said.
The victim told investigators that he wasn't injured, but believed he was struck by one of the shots. A detective on the scene said there was a 6-inch hole in the side of the victim's shirt near his ribs.
The victim said he has known Gadsden since he started at the factory in November, but they are not friends and they had only spoken a few times. The victim said he and Gadsden have been in a couple of verbal confrontations over the past few months, but he did not know why Gadsden would shoot him.
Law enforcement on the scene recovered a bullet casing from the floor and found a bullet hole in a partially assembled boat. Investigators met with Gadsden at the Otter County Jail, but court documents say Gadsden declined to provide a statement.
Copyright 2023 KVLY. All rights reserved.