'RIP good boy': Sheriff's office mourns K-9 shot, killed in the line of duty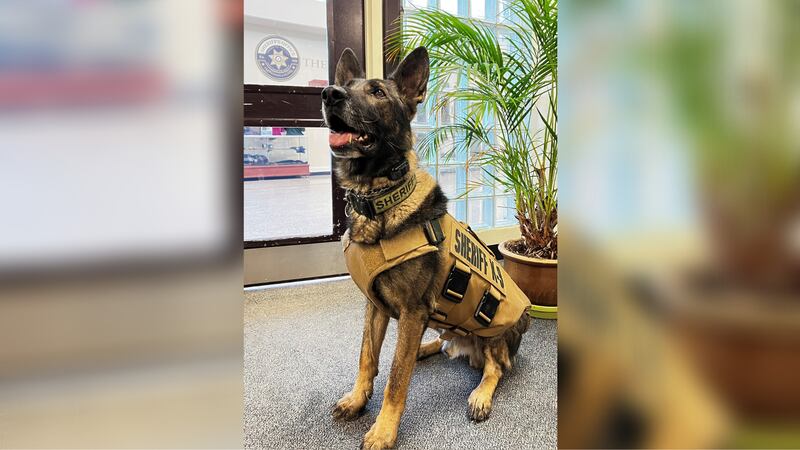 Published: Feb. 13, 2023 at 1:07 PM CST
GOLDEN, Colo. (KKTV/Gray News) – A K-9 in Colorado was shot and killed in the line of duty early Monday morning, officials confirmed.
The Jefferson County Sheriff's Office is grieving the loss of K-9 Graffit, who they say lost his life while trying to capture an armed suspect who had escaped law enforcement during an arrest attempt.
"We've always known Graffit was brave; today he proved a hero. RIP Good Boy," the sheriff's office tweeted.
Officials said the events unfolded just after midnight when Golden and Colorado School of Mines police tried to tend to a man found unresponsive in a car parked near the campus.
"The vehicle was occupied by a single male who was slumped over the steering wheel and non-responsive to officers' attempts to alert him," the Golden Police Department wrote in a news release.
The driver eventually woke up, saw he was surrounded by police and started driving slowly away. He stopped a few blocks away and slumped over his steering wheel again.
"Officers ... attempted to wake him. The suspect woke and began ramming officers' patrol cars in an attempt to escape. Officers were able to break the driver's side window and put the vehicle in park. While removing the suspect from the vehicle, the suspect was able to free himself from officers' grasp and ran eastbound on 19th Street," the news release said.
As a Golden officer chased after the suspect, the man turned and pointed his gun then fled into the nearby woods.
The Jefferson County Sheriff's Office K-9 Unit responded to help with the search.
While tracking the suspect, K-9 Graffit was given the order to take down the man. The suspect fired shots, striking and killing K-9 Graffit.
A Jefferson County deputy returned fire, but it's unclear if the suspect was hit.
SWAT joined law enforcement at the scene, and just before 5 a.m., the suspect emerged from the woods and surrendered.
The suspect has not yet been identified.
Copyright 2023 KKTV via Gray Media Group, Inc. All rights reserved.