Mitch McConnell released from hospital, headed to inpatient rehab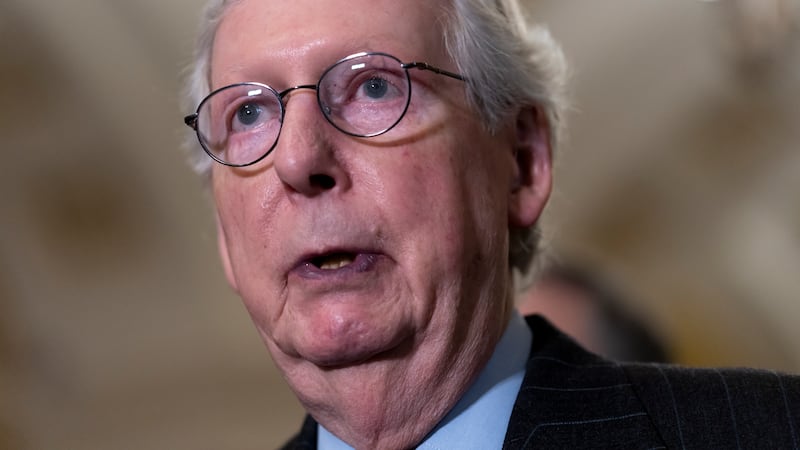 Published: Mar. 13, 2023 at 4:32 PM CDT
|
Updated: Mar. 13, 2023 at 4:52 PM CDT
WASHINGTON (AP) — Senate Republican Leader Mitch McConnell was released from the hospital Monday after treatment for a concussion and will continue to recover in an inpatient rehabilitation facility, a spokesman said.
McConnell's office said his doctors discovered over the weekend that he had also suffered a "minor rib fracture" after he tripped and fell at the Waldorf Astoria hotel in Washington on Wednesday evening.
"Leader McConnell's concussion recovery is proceeding well and the Leader was discharged from the hospital today," McConnell spokesman David Popp said in a statement. "At the advice of his physician, the next step will be a period of physical therapy at an inpatient rehabilitation facility before he returns home."
The office did not give any additional detail on his condition or say how long McConnell will be out. Concussions can be serious injuries and take time for recovery, and even a single incident of concussion can limit a person's abilities as they recover.
It is unclear how his extended absence will affect Senate proceedings. The Senate returns to Washington Tuesday evening after the weekend off and is scheduled to be in session for the rest of March.
The Kentucky senator, 81, was at a Wednesday evening dinner after a reception for the Senate Leadership Fund, a campaign committee aligned with him, when he tripped and fell.
McConnell's head injury comes almost four years after he tripped and fell at his home in Kentucky, suffering a shoulder fracture that required surgery. The Senate had just started a summer recess, and he worked from home for some weeks as he recovered.
At the start of the COVID-19 crisis, McConnell opened up about his early childhood experience fighting polio. He described how his mother insisted that he stay off his feet as a toddler and worked with him through a determined physical therapy regime. He has acknowledged some difficulty in adulthood climbing stairs.
First elected in 1984, McConnell in January became the longest-serving Senate leader when the new Congress convened, breaking the previous record of 16 years.
McConnell is one of several senators who have been absent lately due to illness or hospitalization. Sen. John Fetterman, D-Pa., 53, who suffered a stroke during his campaign last year, was expected to remain out for some weeks as he received care for clinical depression. And Sen. Dianne Feinstein, D-Calif., 89, said earlier this month that she had been hospitalized to be treated for shingles.
Copyright 2023 The Associated Press. All rights reserved.