Suicide ruled in death of man who shot 3 LAPD officers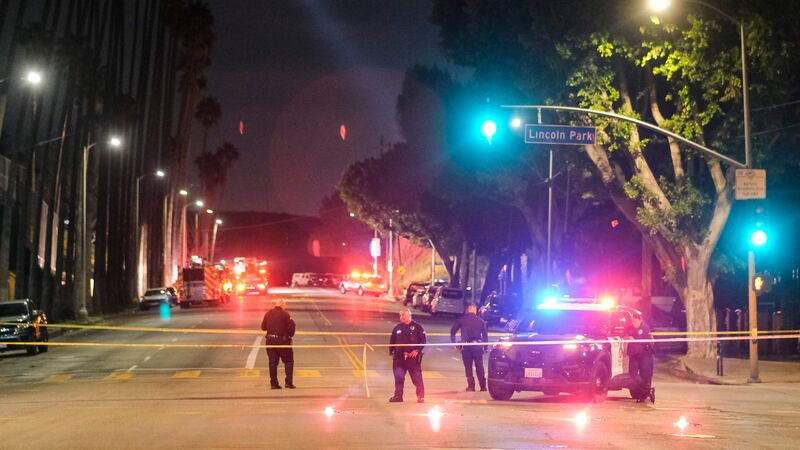 Published: Mar. 14, 2023 at 6:48 PM CDT
LOS ANGELES (AP) — A wanted parolee who shot and wounded three Los Angeles police officers last week killed himself during a standoff, authorities said Tuesday.
Jonathan Magana, 32, died from suicide by a gunshot wound to the head, the Los Angeles County coroner's office said.
Magana also had several gunshot wounds from police who returned fire after he shot the officers last Wednesday in the Lincoln Heights neighborhood, LAPD Chief Michel Moore told the Los Angeles Police Commission on Tuesday.
Magana, a convicted robber who was released from prison last April, was being sought on suspicion of violating his parole and for extortion, police have said.
He was tracked to what appeared to be a unit converted into a basement living space in an apartment building that was under construction, authorities said.
After a two-hour confrontation, police fired tear gas in an effort to force Magana's surrender but he opened fire, wounding three K-9 unit officers, who were pulled to safety as other officers returned fire, police have said.
The wounded officers have been released from the hospital and are expected to recover. Authorities said one was shot in an arm, another in a leg and a third in the body although body armor probably deflected the round, KTTV-TV reported, citing authorities.
A SWAT team was called in and after several more hours a camera-equipped robot spotted an unmoving Magana inside the building, police said. He was pronounced dead at the scene.
Two semiautomatic handguns, including an unregistered ghost gun, were found next to Magana, Moore told the Police Commission.
He said the shooting remained under investigation.
Copyright 2023 The Associated Press. All rights reserved.