Statewide Tornado Drill in Minnesota Thursday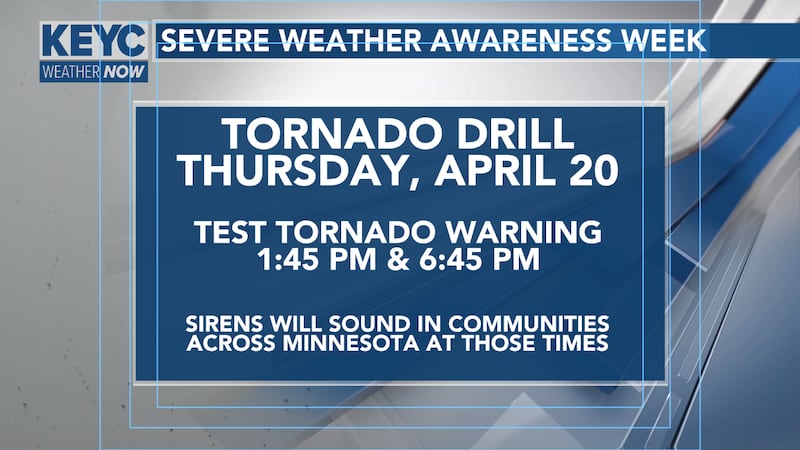 Published: Apr. 20, 2023 at 1:18 PM CDT
Severe weather season is here, and being prepared is the key to keeping you and your family safe. As part of Severe Weather Awareness Week in Minnesota, a statewide tornado drill will take place on Thursday, April 20. A TEST Tornado Warning will be issued at 1:45 pm and again at 6:45 pm, with sirens sounding in communities across the state. This is a perfect opportunity for everyone to ensure they are prepared and know what to do in case of severe weather.
One of the most important things you can do to stay prepared is to check the weather daily. Knowing the weather forecast for the day will help you stay informed and be aware of any potential severe weather that may be coming your way. You should also have a reliable way to get severe weather warnings and alerts. Sirens are only meant for people that are outdoors. The KEYC weather app is a great tool to receive severe weather notifications directly to your smartphone, and a NOAA weather radio is a reliable source of information that can wake you up at night in case of tornado warnings.
It's also crucial to know your safe place. This could be a basement, storm shelter, or an interior room on the lowest level of your home away from windows. Take the time to discuss with your family where your safe place is and what to do when warnings are issued. If you are unsure of the location, find out now and make sure everyone in your household knows how to get there quickly. Tornadoes can strike quickly and sometimes you only have moments to get to safety, so it's best to be prepared in advance.
In addition to having a designated safe place and staying informed about the weather, it's also important to have an emergency kit ready. This kit should include essentials such as water, non-perishable food, a first aid kit, flashlight, extra batteries, shoes and a whistle. Having these items on hand can make a big difference in case of an emergency.
During the tornado drill, take the opportunity to practice your severe weather plan with your family. Go through the motions of seeking shelter in your designated safe place, and make sure everyone knows what to do and where to go. This practice drill can help you identify any gaps in your preparedness plan and ensure that everyone in your household is ready in case of a real tornado warning.
Remember, tornadoes and severe weather can be unpredictable, and preparedness is key to keeping you and your family safe. Take advantage of the statewide tornado drill in Minnesota to review your severe weather plan, check your emergency supplies, and make sure everyone in your household knows what to do in case of severe weather. Especially if you have children that are home alone. Don't wait until it's too late. Be proactive and prepared, because when it comes to severe weather, every second counts.
Copyright 2023 KEYC. All rights reserved.