Governor Walz signs nine bills into law today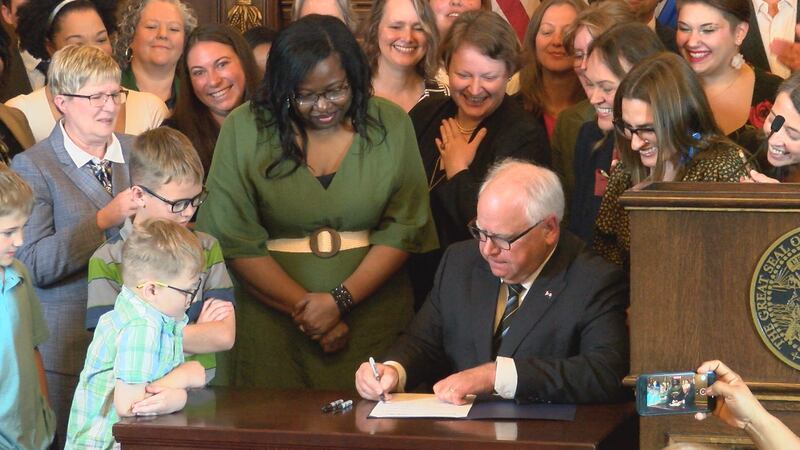 Published: May. 26, 2023 at 2:43 PM CDT
MANKATO, Minn. (KEYC) - Governor Tim Walz signed nine bills into law today, as passed by the Minnesota Legislature.
The Governor's bill signing included:
Chapter 56, House File 3288 – Claims settlement bill; appropriating money
HF 3288 appropriates $1,157,068.32 to the Department of Corrections in order to pay claims to individuals who were either exonerated of their crime, received a medical reimbursement while incarcerated, or received a work-related injury while incarcerated. The legislature's Subcommittee on Claims approves the annual claims bill.
Chapter 58, House File 1370 – Claims settlement bill
This bill establishes criminal violations and allows for a cause of action for the dissemination of nonconsensual deep fake images.
Chapter 66, House File 402 – Hospital merger requirements
This bill sets the following health care merger requirements and authorizes the attorney general to seek relief if a health care entity or transaction violates the notice and review requirements or is contrary to the public interest.
Health care entities with an average annual revenue between $10-80 million must provide data to MDH concerning which entities are involved in the transaction, terms of the agreement, the health care services being provided, and other transparency measures. For health care entities with average annual revenues over $80 million, they must provide a written notice to the Attorney General of the transaction.

No health care entity can enter into a transaction that would substantially limit competition or create a monopoly.

The University of Minnesota health care facilities must remain dedicated to the university's public health mission and may not be controlled or owned by a for-profit entity or an out-of-state entity, unless the attorney general determines it is in the public interest.
Chapter 67, House File 1900 – Environment and natural resources trust fund renewal provided, community grant program established, community grant program advisory council established, report required, money appropriated, and constitutional amendment proposed
The bill renews the Environment and Natural Resources Trust Fund (ENRTF) constitutional amendment, sending it to the voters for the November 2024 election, and establishes a new community grants program funded by the ENRTF that will reach underserved communities. The new community grant program will have an advisory council established by the DNR to oversee the grant program. Since 1991, the ENRTF has provided over $700 million to environmental, conservation, and educational projects and programs across the state.
Chapter 69, Senate File 3307 – Revisor's bill
This Revisor's Office bill makes technical corrections to state statutes.
Chapter 73, House File 447 – Revisor's Bill
This Revisor's Office bill also makes technical corrections to state statutes.
Chapter 74, House File 3342 – Nursing Facility Relief Bill
The bill provides direct financial support to nursing facilities by establishing a Nursing Facility Workforce Incentive Grant Program and investing $75 million in nursing facilities to assist with recruiting and retaining direct support professionals, providing $173 million in direct payments to nursing facilities, and providing a temporary daily rate add-on for nursing facilities for 18 months starting July 1, 2023.
Chapter 75, Senate File 1384 – Nurse and Patient Safety Act
The bill expands the Hospital Nursing Education Loan Forgiveness Program to include nurses employed as a hospital nurse by a nonprofit hospital and providing direct care to patients at the nonprofit hospital. It also establishes requirements for hospitals in developing written action plans to address workplace safety, requires an annual report to the legislature on these action plans, and requires the Commissioner of Health to publish a report on the current status of the state's nursing workforce employed by hospitals.
Resolution 1, House File 197 – Equal Rights Amendment Resolution to Congress
A resolution encouraging Congress to recognize state ratification of the Equal Rights Amendment.
Copyright 2023 KEYC. All rights reserved.