Remembering fallen Fargo Police Officer Jake Wallin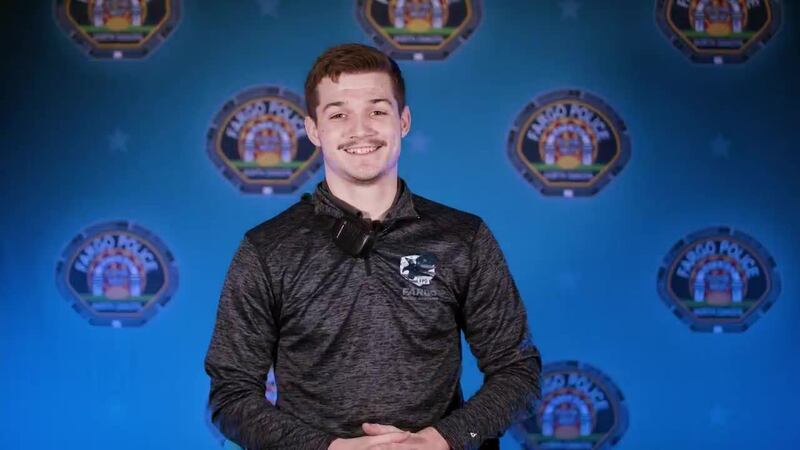 Published: Jul. 17, 2023 at 7:57 AM CDT
ST. MICHAEL, Minnesota (KARE 11) - In his own words, Officer Jake Wallin said in a video released by the Fargo Police Department, "Throughout my entire life, I've always wanted to work in some sort of position that had purpose behind my job and a police officer is always what kind of came to me."
Tributes are coming in for Officer Wallin. The St. Michael native was killed in the line of duty at the age of 23.
On Friday, a gunman killed Wallin and critically wounded Fargo police officers Andrew Dotas and Tyler Hawes. The suspect, 37-year-old Fargo resident Mohamad Barakat, was shot and killed by another officer. A 25-year-old woman was also seriously wounded in the shooting.
Fargo Police Chief David Zibolski said the officers were out investigating a "routine traffic accident" when Barakat opened fire. Chief Zibolski said it did not appear the suspect had been involved in the crash police were working on. You can read more about the investigation here.
Referring to the video FPD posted, Jake's father, Jeff Wallin, told KARE 11′s Kent Erdahl, "I don't know what to say that he didn't say perfectly himself in that video... That is exactly who he was."
Wallin is a 2018 graduate of St. Michael-Albertville High School.
STMA Football released a statement saying, in part, "Jake played linebacker for the STMA Knights and was a hard worker that always brought a big smile. The Knights Football program would like to express our condolences to the Wallin family, friends, and communities that Jake was an important piece of and will be greatly missed."
Jared Essler, a history teacher and head football coach at STMA, said Wallin played football for STMA for four years. Essler coached him on the varsity team for two years.
"I think we're all kind of collectively grieving as a community," Essler said.
Essler was visiting Fargo at the time of the shooting and later learned that Wallin was the one killed.
"I just always remember his smile. He genuinely enjoyed other people and being a part of the team," Essler said. "You could just tell he'd be successful in any sort of career path that he went into."
The Minnesota National Guard said Army Sgt. Wallin entered into service in Dec. 2017 as a cannon crewman before deploying to Afghanistan and Iraq from Nov. 1, 2020, to July 19, 2021, with the 1-194 Field Artillery Battalion. He was currently serving with the 151 Field Artillery Battalion.
"The citizen Soldiers and Airmen of the Minnesota National Guard extend our deepest condolences to the family members and friends of Sgt. Jake Wallin. His death is a loss to our military family as well. He lived a life of service- not only to his state and nation but his community. We are grateful for his commitment to others even in the face of danger," said Army Maj. Gen. Shawn Manke, the Guard's adjutant general.
Jonathan Norling, who served in the military with Wallin, said, "He was one of the greatest soldiers that I have ever had the privilege to serve with. His personality, dedication, and motivation were contagious to those around him. His laughter and smile had the ability to brighten any situation. He was proud to serve in both the uniform of his country and his community. This is a tragic loss to his family, friends, brothers, and sisters both in the Army and in the Fargo PD. He will be missed, loved, and remembered by those who had the privilege of knowing him."
Wallin was also a graduate of Alexandria Technical and Community College (ATCC) and an attendee of the American Military University.
"It's a very tough time," said Dr. Shawn Williams, associate dean of Educational Services at ATCC. Williams currently leads the law enforcement educational programming on campus. Williams confirmed that Wallin graduated from the two-year program in 2021. Dotas also graduated from the program in 2015.
While Williams does not personally know any of the officers involved, he called law enforcement a family and said, "I have spent a number of years in this profession myself. When this happens, you start thinking, 'Why?' You want to know why... but on the same token, you still remember that these gentlemen were there to serve and protect with courage. So you applaud that piece but you still think, 'Why?'"
In the same video released by FPD, Officer Wallin said, "I don't want to be sitting in the office wondering why I'm here every day. I want to be out. I want to be doing something that I can tell myself, at the end of the day, I made a difference somehow."
Copyright 2023 KVLY. All rights reserved.