Lee Wayne Young Jr., 19, sentenced to life in prison
Published: Jul. 27, 2023 at 11:53 AM CDT
MANKATO, Minn. (KEYC) - A Mankato man is sentenced to life in prison for the sexual assault and murder of a 2-year-old.
Lee Wayne Young Jr., 19, earned his sentence this morning in Blue Earth County Court of 20 felony charges related to the April 2021 death of a 2-year-old.
A jury found Young Jr. guilty in June of 20 felony charges of murder in the first degree and sexual assault in the first degree.
Young Jr. was 16 years old when Police responded to an apartment on April 16, 2021, for what they called a medical incident.
The two-and-a-half-year-old victim was taken to the hospital where he was pronounced dead.
The Ramsey County Medical Examiner's Office autopsy found multiple injuries consistent with sexual assault, coercion, and a beating -- before ruling the death as murder.
According to the Blue Earth County Attorney's Office, there is a chance of parole.
Young Jr. has to report at the MN Correctional Facility in St. Cloud.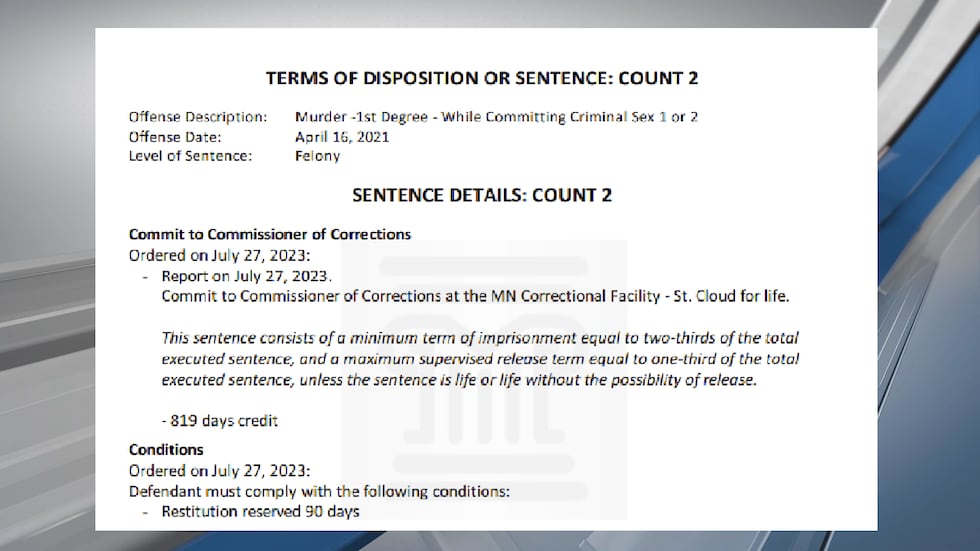 Click here to download the KEYC News Now app or our KEYC First Alert weather app.
Copyright 2023 KEYC. All rights reserved.