Pancakes, Ag were focus of annual Breakfast on the Farm event
Published: Aug. 14, 2023 at 7:30 AM CDT
MANKATO, Minn. (KEYC) - Pancakes and agriculture were the focus of Saturday's community event at River Hills Ag.
The Farm Bureaus of Blue Earth and Le Sueur counties hosted their annual Breakfast on the farm event to educate community members about where their food comes from and what modern agriculture looks like.
"We're so excited to have this event today," said Angela Guentzel, a coordinator for the event. "We're lucky to have some great support between the community and the sponsors and FFA groups and just a great public group that came out to see us today. And the pancakes have been great."
Community members got to enjoy a free pancake breakfast, see farm equipment, meet farmers, visit farm animals, and there were also activities for the kids to enjoy. This event was free and open to the public.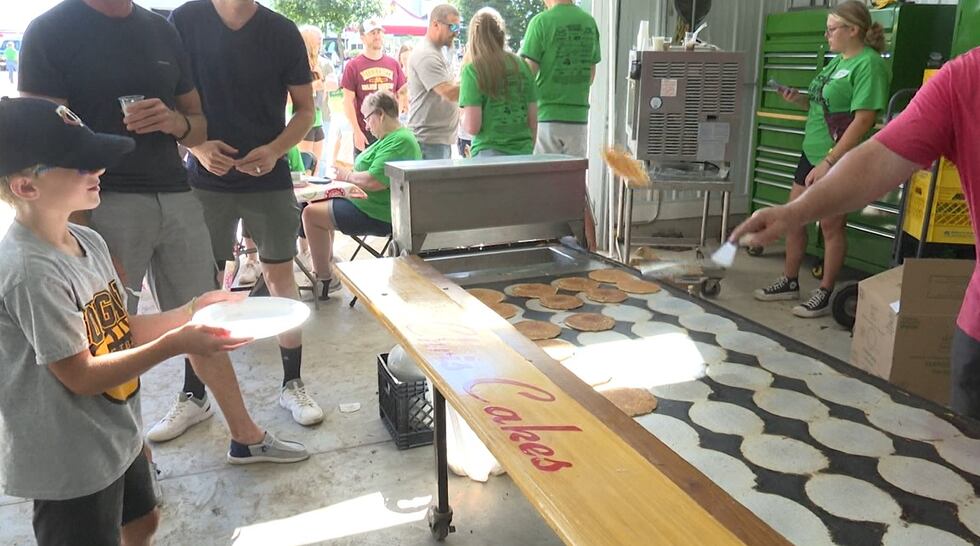 "Yeah, well, my family is all here enjoying this morning," said Chris Harstead, an attendee for the event. We have some pancakes and some great food. We've come to this several years in a row. And so, we were super excited to get here this morning. It's a beautiful day. The girls have loved the corn pit. We've climbed up into some tractors. We just love seeing the beautiful area and the farm down here."
This event also showcased all the different careers that are related to agriculture.
"Yeah, I just, honestly, get so happy when I meet other people, especially people in our community, and I love it when I can educate people that might not know that much about agriculture and our area," said Molly Niederegger, a volunteer for the event. "Like, just teaching them about, like, certain practices that we use to help be more sustainable in agriculture."
Brandon Brehmer, the owner of River Hills Ag, was happy with the large turnout.
"The turn out's been great," said Brehmer. "We appreciate everybody stopping out and coming. We had some great weather for the event and just thankful that people want to get involved in agriculture and stop out and see us."
Click here to download the KEYC News Now app or our KEYC First Alert weather app.
Copyright 2023 KEYC. All rights reserved.