Mankato Regional Airport holds 46th annual Drive-In and Drive-In Breakfast
Published: Aug. 21, 2023 at 8:16 AM CDT
MANKATO, Minn. (KEYC) - Mankato Regional Airport held its 46th annual Fly-In and Drive-in Breakfast to support Aviation students.
The Experimental Aircraft Association Chapter 642 hosted their annual pancake breakfast for community members, to enjoy at the Mankato Regional Airport.
"We just love to do it," said Gary Tyson, a Fly-In Drive-In Breakfast coordinator. "It's like I say, a lot of the stuff is donated for scholarships, and we put it together the best way we can, you know; we're known as the best breakfast at a flying breakfast. So, we got our own recipe for pancakes."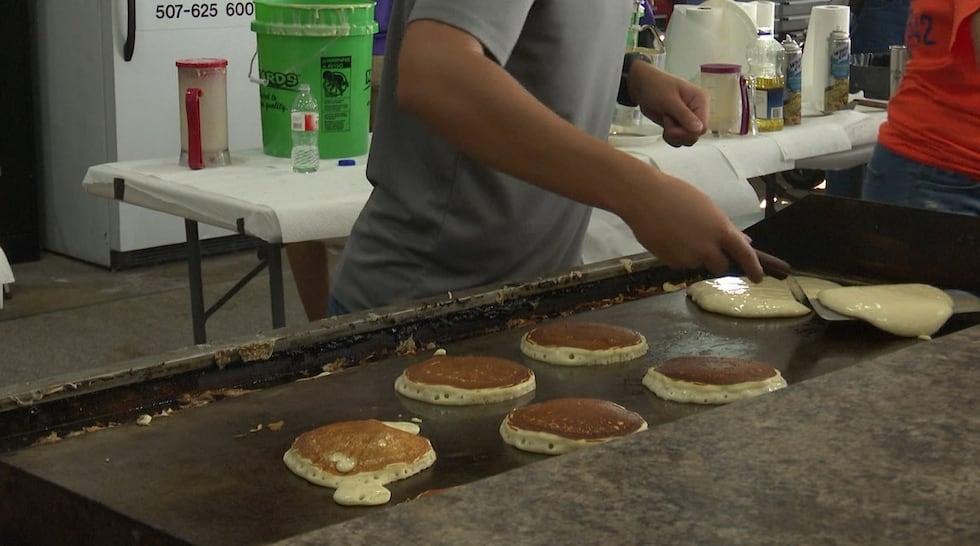 The proceeds from this event will be used for scholarships to help aviation students with their tuition. Mankato Aviation School will bring in 200 freshmen to be trained as pilots this year.
"I just think it's great the turnout in the Aviation program is large and there's going to be such a shortage of pilots due to the Baby Boomers retiring," explained commercial pilot Marilyn Peterson. "So, I just think it's great to see all the programs growing."
The Fly-In Drive-In Pancake Breakfast is always held on the third Sunday of august. People that came out to the event got to enjoy swing music played by the Dan Duffy Orchestra and to see a variety of planes and classic cars.
"Well, we always come to the annual Mankato Flight Breakfast -- it's the best one around," said Ra Dann Dawson, another event attendee. "We fly to many of them. You guys get the best crowd, the most airplanes, and we encourage anybody to come out to the Mankato airport to see the airplanes, meet people and they'll learn about flying. It's a wonderful experience."
The tickets for this event were $10 and it was free for kids under five.
Click here to download the KEYC News Now app or our KEYC First Alert weather app.
Copyright 2023 KEYC. All rights reserved.