Couple drives everywhere with giant giraffe to make people smile
Published: Sep. 2, 2023 at 6:25 PM CDT
COLORADO SPRINGS, Colo. (KKTV) - You can't miss Sally and Larry McNabb when they're out driving around.
There's the red convertible and, of course, the giant stuffed giraffe in the back seat!
"It's so funny watching people. They're taking pictures of us. They're smiling. They're waving," said Larry McNabb.
Sprinkles the giraffe goes everywhere the convertible goes. He was originally intended for the couple's daughter, but it became the parents having all the fun.
"She loves giraffes. She loves going down and feeding giraffes at the zoo. That's one of her favorite things to do. So that's where we kind of got the idea of doing the giraffes," Larry McNabb said.
"I was redecorating my daughter's bedroom, and I ordered it online, and when it came, I took it out of the box, and it happened to be sitting next to an older convertible that we had," Sally McNabb recalled, "and I just thought, 'Gee, I bet that would look funny in the back seat!'"
So off she and the giant stuffed giraffe went for a spin around the block.
"The kids were all laughing and waving, and so the next day, I drove it to work, and the rest has been history," she said.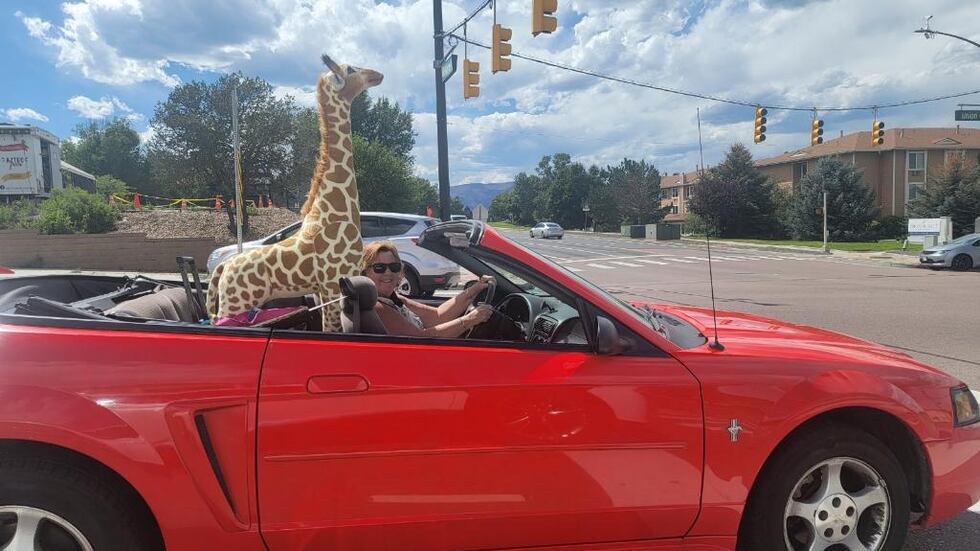 She quickly realized this could be an easy way to bring joy to others and tried to get her husband in on the fun.
"She came and said, 'Oh, you've got to do it!' I said, 'I ain't driving around with no giraffe in the car, Sally!' 'Oh, you just got to try it.' I tried it once and was hooked," Larry McNabb said.
Fifteen years later, Sprinkles the giraffe hits the road every time the couple does. He's as much a part of the car as the steering wheel.
"You definitely drive safe, because you know if you cut someone off, they are going to remember that you were in a red convertible with a giraffe!" Sally McNabb laughed.
"I have him strapped down, and then I have him seated with the seat belts," Larry McNabb said.
Their kids think they're a little crazy, including the daughter who inadvertently started it all.
"She thinks we're nuts! [Laughs] We have one daughter who loves Sprinkles, and our other two daughters and son would probably never ride with us," Sally McNabb said.
When asked why they do it, Larry McNabb explained.
To share blessing. I mean, really, that's what it's all about, sharing blessings and making people smile," Larry said. "God's blessed us, so we want to bless others."
The McNabbs say just about every drive results in someone cracking a smile.
"I love it when we drive by kids and they want to wave and talk to us, like rolling down their windows when we're at a stoplight," Sally McNabb said. "It's really fun, I think especially people who are out shopping. The fun thing for me is when a teenage boy or man don't want to look at me, and they're trying to decide if they want to pay attention or not, and then usually they crack a grin, and I give them a thumbs up."
Larry McNabb said they momentarily found themselves at the cutting edge of pop culture.
"After 'Hangover 3′ came out - we had no idea, because the 'Hangover' movies aren't our thing - and all of a sudden, all these young guys are going, 'Oh that's so cool!'"
"Oh yeah, they'll yell out the car window when they pass us!" Sally McNabb said.
"And I asked, 'Have you noticed?' and she goes, 'Oh yeah, there was a movie that came out that had a giraffe in it, and it was one of the 'Hangover' movies.' 'Oh yeah, okay.' So now we're really cool with the young guys!"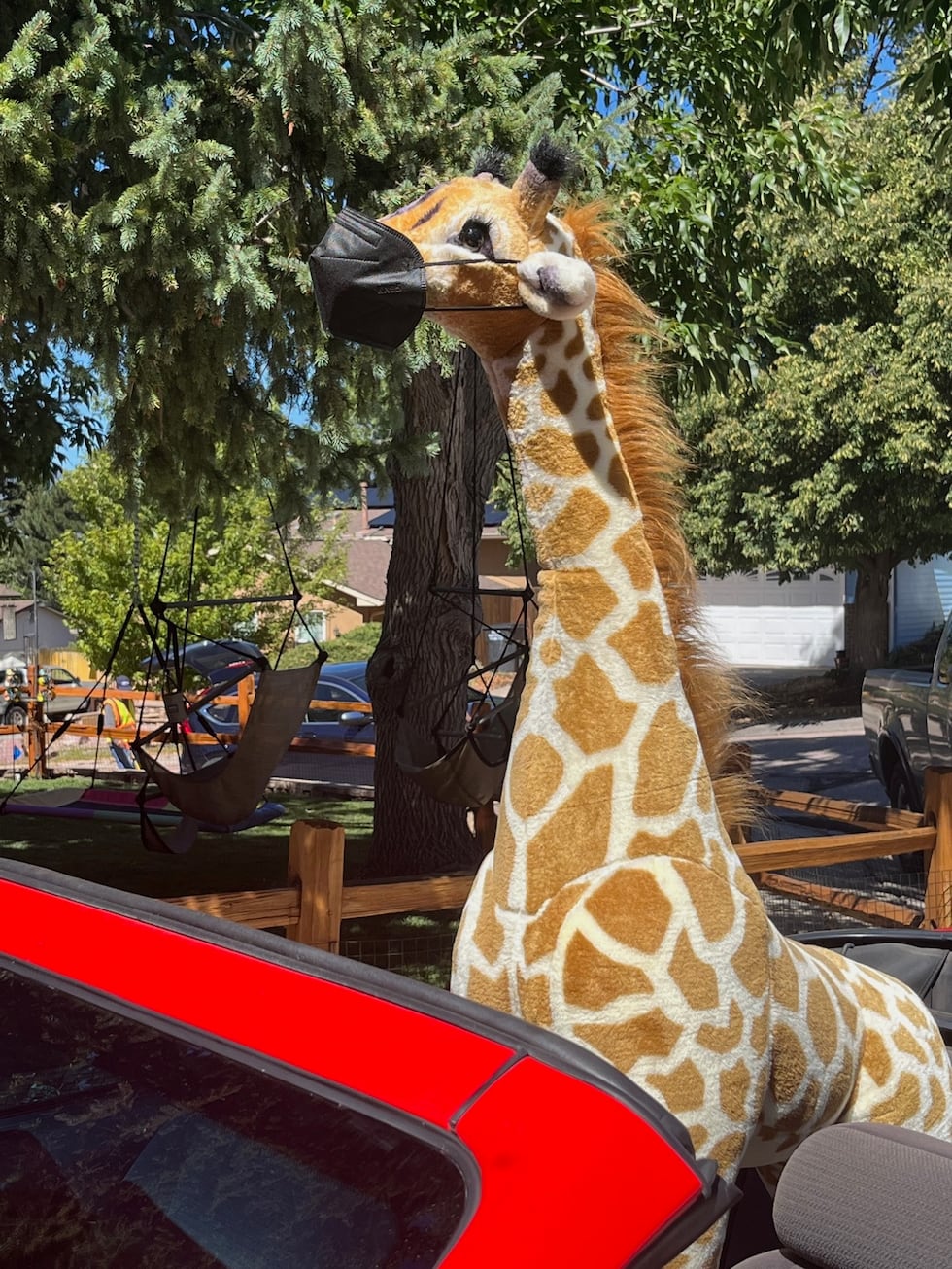 The McNabbs say they don't drive anywhere special with Sprinkles. He just goes wherever they would be going for their day-to-day activities and errands. But even these ordinary excursions can lean towards extraordinary when there's a giant stuffed giraffe involved.
"We often come out of a grocery store and there will be people taking pictures of the car, so I always say, 'Would you like to sit in the car and I'll get your picture so you can send it to your friend or whoever?'" Sally McNabb said.
In one special case, they say Sprinkles helped a grieving family.
"One of our favorite things that has happened with Sprinkles is we were coming off the freeway at Woodmen, and we were stopped at the light to make a left, and a large SUV pulled up beside us. And they rolled down the windows, and there was about eight people in the car, and they said, 'We just came from a funeral, and we've been crying for three days. And this is the first time we've smiled.' ... That's why we do it," Sally McNabb said.
Whatever the weather or the season, you'll find the McNabbs and Sprinkles on the road, making Colorado Springs a better place, one drive at a time.
"We have lights going around his neck, so if we're driving at night, you know, Christmas spirit! During Easter, I'll put rabbit ears on him, and COVID we had a mask on him," said Sally McNabb. "I'll be doing this until I'm 100, I'm sure."
"As long as I can drive a convertible," her husband added.
"Some people have the gift of singing, some people have the gift of art, bless other people … We have the gift of driving around with a giant giraffe in the back seat of the convertible!" Sally McNabb said with a laugh.
Copyright 2023 KKTV via Gray Media Group, Inc. All rights reserved.