Search continues for missing 81-year-old Sanborn woman
Published: Sep. 22, 2023 at 8:34 PM CDT
SANBORN, Minn. (KEYC) - Community members gathered at the Sanborn fire department to continue the search for 81 year old Jeanie Jackson. This is the third search party they've had since Jackson was reported missing on Wednesday morning.
"I think we were all put here to help each other, so walking or looking at something I can do. So I'm more than happy to take off work and come and help," said volunteer Michelle Lepp.
Officials and community members have used a variety of ways to search for Jackson, such as ATV's, horseback riders, and helicopters. Law enforcement agencies have also been assisting the search party, including Sibley County, Brown County sheriff's office, and Cottonwood County.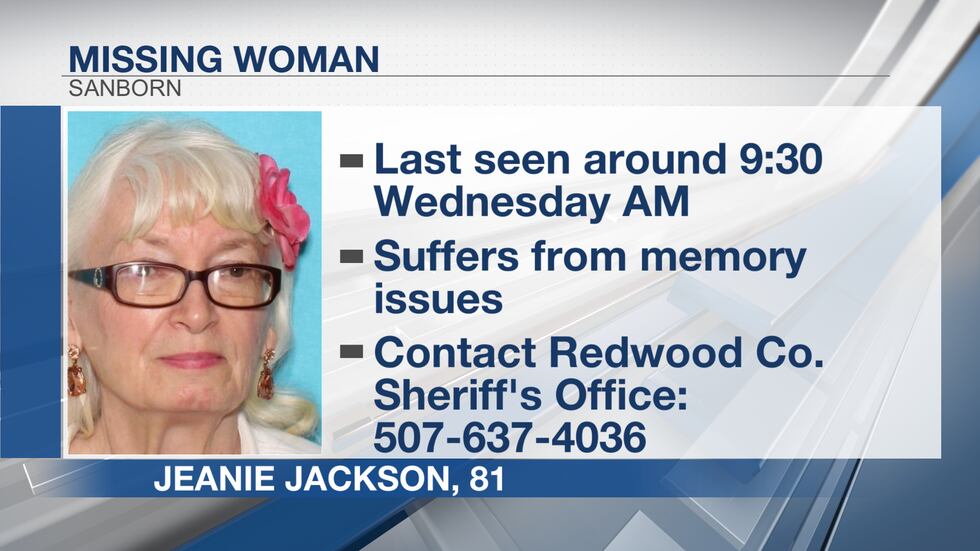 "From what I've seen this. Tremendous, from what I understand had at least a couple 100 yesterday, so. We're all prayed and open for a resolution today. Bring peace to the family," said volunteer Bill Griffin.
Volunteer organizations have been providing food, water, and gifts for the community members who took part in the search. People who weren't able to participate still were able to bring supplies to assist with the search.
"Anytime in Redwood County, when we have an event like this, it seems like people come out of the woodwork to to come help and they're they're extremely supportive. Different organizations, volunteer organizations," said Jason Jacobson of the Redwood County Sheriff;s Office.
Officials advise community members in Sanborn to check their own properties as a effort to locate Jeanie Jackson.
Click here to download the KEYC News Now app or our KEYC First Alert weather app.
Copyright 2023 KEYC. All rights reserved.