Private meeting at Iowa lawmaker's home helped lead to 70+ endorsements for Nikki Haley
"We have to do something," legislator said of the thought of Trump becoming the nominee again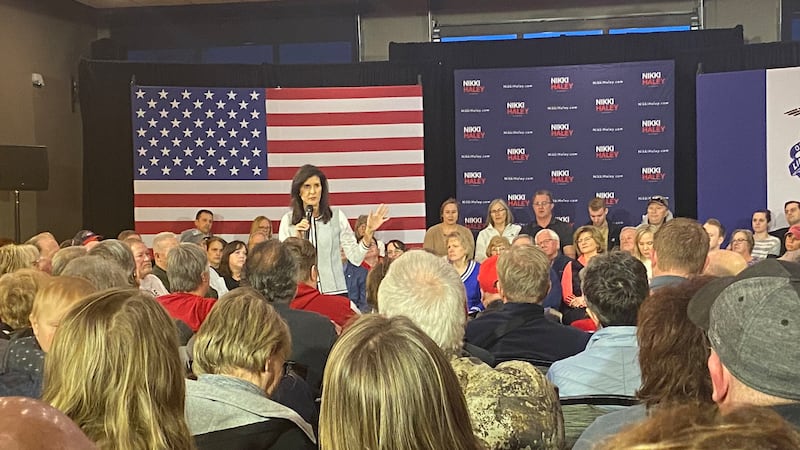 Published: Nov. 14, 2023 at 11:22 PM CST
DES MOINES (KTIV) - An Iowa Republican legislator decided that it was "time to take our party back." A former U.S. Ambassador to Barbados and historic Iowa Statehouse leader stepped back into public politics after 16 years away from it, saying, "It's a time that we all need to act."
They are two of the more than 70 influential Iowans that Nikki Haley's presidential campaign announced are publicly supporting her about two months before the state's Republican Caucuses. The announcement followed a private meeting of concerned Iowa Republicans (former Republicans in some cases) in early November who were alarmed at public polling that shows that Donald Trump could become their party's nominee again in 2024.
And they come a week after Governor Kim Reynolds, arguably one of the state's most popular Republicans, endorsed Florida Governor Ron DeSantis -- rather than Trump -- whom she had previously defended despite the 91 criminal indictments against him.
DeSantis has also previously announced the endorsements of more than three dozen Iowa GOP legislators.
State Representative Brian Lohse, a Bondurant Republican, said of Trump, "I have a hard time supporting someone who is so incredibly divisive, not just amongst the country but amongst the party."
While Lohse liked the tax cuts that Republicans passed during Trump's time in office, along with more attention to border security, he worries that a second Trump term will be more focused on grievance, retribution and vengeance against those who oppose Trump.
"I'm a Reagan Republican," Lohse said of his quest for a conservative nominee with character.
Two weeks ago, Lohse hosted a private gathering with about three dozen people at his home. The discussion centered on the concerns of Trump winning the Caucuses, whether Haley can be a top alternative and if this group of Iowans was willing to get involved publicly in this presidential campaign on Haley's behalf.
The conversations that day, along with several others that followed since, led to Tuesday's campaign announcement of their endorsements.
"We have to do something," Lohse explained. "We have to take our party back. We all felt Nikki was that person."
The temperament, the background (former South Carolina legislator, governor and U.S. Ambassador to the United Nations) and the ability to attract conservatives, people loosely supporting Trump now, Democrats and Independents united nearly everyone who gathered at Lohse's house.
It's what nudged Mary Kramer to get involved. "I left politics in 2007," Kramer chuckled.
In 2007, Kramer returned to the Des Moines metro after serving four years as President George W. Bush's appointment as U.S. Ambassador to Barbados. Before that, she held a seat in the state senate for 23 years. That tenure included an Iowa first: she became the first woman elected president of that legislative body.
"Women can show the ability to listen," Kramer said, "...and lead."
Kramer continued to follow politics but chose not to get publicly involved in campaigning or endorsing candidates as they came through town. But after listening to the people around her at Lohse's house, as well as the conversations that followed, Kramer decided that it was time to get involved again in whatever way she could be of most value.
Kramer said, "It's a dangerous time. It is one where we are on the borderline of not functioning as a government, so the leadership challenge is going to be huge. The willingness to listen and negotiate has to be there."
Kramer saw those listening and negotiating traits in Haley, her fellow former ambassador. So did Lohse but also a characteristic that he feels is rarer these days and much needed. "Winning matters," Lohse said of his belief that Haley could give Republicans the best chance to win back the White House, "but so does disagreeing."
He thinks that Haley is his party's most skilled leader at communicating with others who differ on the issues. Lohse doesn't believe Trump is willing to do that and the country needs someone like Haley instead. "We need a party that says, 'O.K., we disagree. I'm not going to call you names. I'm going to continue to work with you.'"
Here is the list of Iowans, many of whom were at Lohse's house, who are publicly endorsing Haley:
John Axtel, former Iowa GOP State Central Committee member

John Balmer, former mayor of Iowa City

Suzanne Barnes

Bob Bettendorf, President of Bettendorf Company

Lisa Bianco

Darlene Blake, former Polk County GOP Chair

Shane Blanchard, former Waukee City Councilman

State Representative Jane Bloomingdale

Carmine Boal, former state representative

Mary Boote

Bob Brunkhorst, former state senator and former mayor of Waverly

Dennis Campbell, agriculture leader

Robert Christensen

Scott Cirksena, former mayor of Clive

Brent Cobb, CEO of World Class Industries

Meg Courter, State Fair Blue Ribbon Foundation

Jeff Courter

Mike Dee

Kris Dee

Amanda De Jong

Bob Dorner

Bob Downer, business leader, Iowa City

Jane Downer

Allison Fleming, former President of Greater Des Moines Foundation

Bill Friedman, former CEO of Younkers

Johnnie Friedman

Steve Gaer

Corrine Ganske, MD

Rachel Geilenfeld

Doug Gross, former chief of staff to Governor Branstad

Jean Hamilton

Mike Hamilton

Carrie Hansen, grassroots leaderg

Brenda Hart, former Iowa Federation of Republican Women President

Keith Heffernan

Christine Hensley, former Des Moines City Council member, longest serving ever

Steve Hensley

Susan Heun, grassroots leader

Rick Hickman

Paul Lekel, Associate Pastor at GracePoint Church

Libby Jacobs, former state representative

Linda Juckette

Jim Kimball

Mary Ellen Kimball

Kevin Koester, former state representative

Mary Kramer, former Ambassador to Barbados

Mayor of Pleasant Hill Sara Kurovski

Steve Lacy, former CEO of Meredith

Don Lamberti, founder of Casey's

Liz Lee, grassroots leader

State Representative Brian Lohse

Dennis Murdock, former CEO of Central Iowa Power Cooperative

David Oman, former chief of staff to Governors Ray and Branstad

Nancy Palks, former Director of the Marshalltown Convention & Visitors Bureau

Mary Jean Paschen, former Polk County GOP Chair

Madison Price, Students for Nikki, Central College

Martha Raecker

Mike Ralston, ABI President

Lynette Rasmussen, CEO of Rasmussen Group

Mike Richards, President of Iowa Board of Regents

John Rigler

Jim Sandager, former West Des Moines Councilmember

Louisa Sandager

Bill Scherle, former Polk County GOP Chair

Lyle Simpson, grassroots leader

Janet Pepper Simpson

Adam Siren

O. Jay Thompson

Pat Thompson

Maggie Tinsman, former state senator

Margo Underwood

Linda Wright, former Branstad Administration official
Copyright 2023 KTIV. All rights reserved.