Three GOP presidential candidates discuss challenging pregnancies and loss while discussing faith at Iowa forum
Trump declined to attend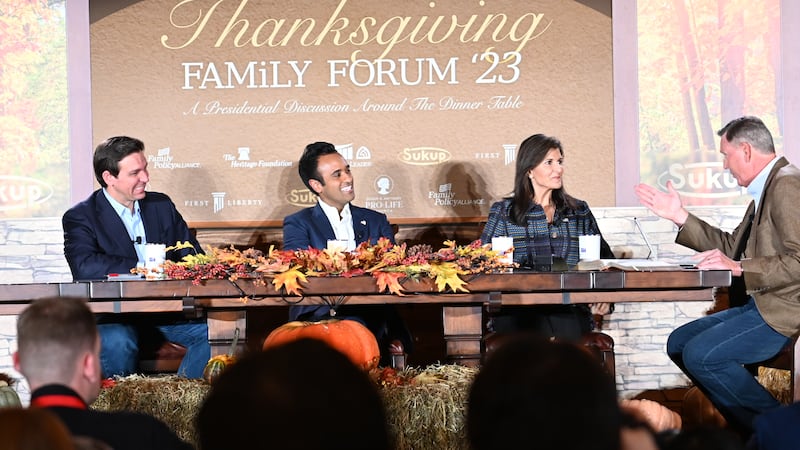 Published: Nov. 17, 2023 at 11:40 PM CST
DES MOINES (KTIV) - In what is likely the only time this will happen before Iowa's Republican Caucuses on January 15th, three presidential candidates sat down at the same table -- rather than standing next to each other at podiums in a debate -- and talked at length about their faith, family and plans for the future. The table was decorated in a Thanksgiving theme, which organizers of the Family Leader's 2023 Presidential Thanksgiving Family Forum hoped to provide a backdrop for a more casual, but more intimate conversation about their beliefs.
"I want to have an adult conversation about the future of the country," said Bob Vander Plaats, president and CEO of the Family Leader, who moderated the event in downtown Des Moines.
Vander Plaats, who has urged Republican caucus goers to support someone other than former president Donald Trump in the Caucuses, asked the audience of nearly 800 to remain civil during the event. "We don't boo," Vander Plaats said, "Let the silence do the heavy lifting."
The candidates -- Nikki Haley, former South Carolina governor and U.S. Ambassador to the United Nations; Vivek Ramaswamy, a biotechnology executive and author from Ohio; and Ron DeSantis, governor of Florida -- refrained from attacking each other during the event.
They all shared personal stories of struggles with starting a family, while also discussing their faith. Haley and DeSantis are Christians. Ramaswamy is Hindu.
Haley said, "We have one job," when talking about the importance that she and her husband had in raising their two children. She said the family had dinner together at least five times per week and that she this goal: "If we can teach them a faith and conscience, then they'll be ok."
Haley said that she had difficulty getting pregnant, which makes her appreciative for the opportunity to become a mother and reaffirmed her commitment to protect the unborn. "You don't take it lightly. You know it's a blessing," she said.
Several times, Haley called herself "pro-life." She said that people shouldn't "judge" or "demonize" those with differing views on the issue of abortion. She said that while she would sign a bill if she were still the governor of South Carolina that would ban nearly all abortions after about six weeks of pregnancy (like Iowa's Republican-led legislature passed), she believes that the issue should be up to the people in each individual state to decide.
She pointed out that Republicans have lost 7 out of the past 8 popular votes in the presidential elections and that the party needs a nominee who can communicate more effectively with a broader group of Americans. "We need a new generational leader," Haley said.
Haley urged Americans to support Israel following the October 7th attacks by the terrorist organization, Hamas. "Everybody runs to Israel when she gets hit but you've got to support her when she hits back, too."
DeSantis shared a story of the difficulties that he and his wife had getting pregnant after they got married. He said they traveled to Israel while he was in the military and then later got pregnant following their return to the United States. However, his wife Casey, had a miscarriage. "Our first born was a prayer that was answered for us," he said.
Since then, the couple has had three children. DeSantis said that should demonstrate the importance of restricting abortions. "If we can't stand for a culture of life, then we're not worth very much at all."
He called Israel, "our only tried and truly ally in the Middle East…only one that shares our values." And he added, "Israel is a special country because our entire civilization…western civilization… was birthed in the Holy Land."
Vander Plaats had asked the candidates at the beginning of the forum not to criticize former president Donald Trump (who declined to attend the event) or President Joe Biden. Although DeSantis said that Trump can't likely spell the nickname that he uses to mock the former governor, "DeSanctimonius."
And he said that Trump won't win the general election if he becomes the Republican nominee. "If push0000 comes to shove, the American people aren't going to go there."
Ramaswamy explained, when asked by Vander Plaats, his religious beliefs as a Hindu, like this: "My faith is what gives me my freedom. I believe there is one true God. I believe God put us each here for a purpose."
"We believe that God resides in all of us," he said.
Ramaswamy said that as president he would not promote Christianity across the country but that he would protect the values of Christianity.
He said that he and his wife leaned on their faith after suffering a miscarriage. "Our child joined our Creator and we will, too."
The country, he said, should support Israel, "because it's in the interest of the United States of America."
"Israel is our ally," Ramaswamy said and that the alliance would allow the U.S. to focus its attention on threats elsewhere.
And he added that the biggest concern facing the U.S. is, "The greatest moral threat is this new tyranny of the minority."
Copyright 2023 KTIV. All rights reserved.