October's Monthly Weather Recap
Published: Nov. 3, 2020 at 2:44 AM CST
MANKATO, Minn. (KEYC) -October's weather was a roller coaster ride to say the least. Southern Minnesota started the month with slightly below average temperatures followed by a brief spell of above to near average temps. By October 17th, cool Canadian air arrived allowing for record cold for much of Southern Minnesota.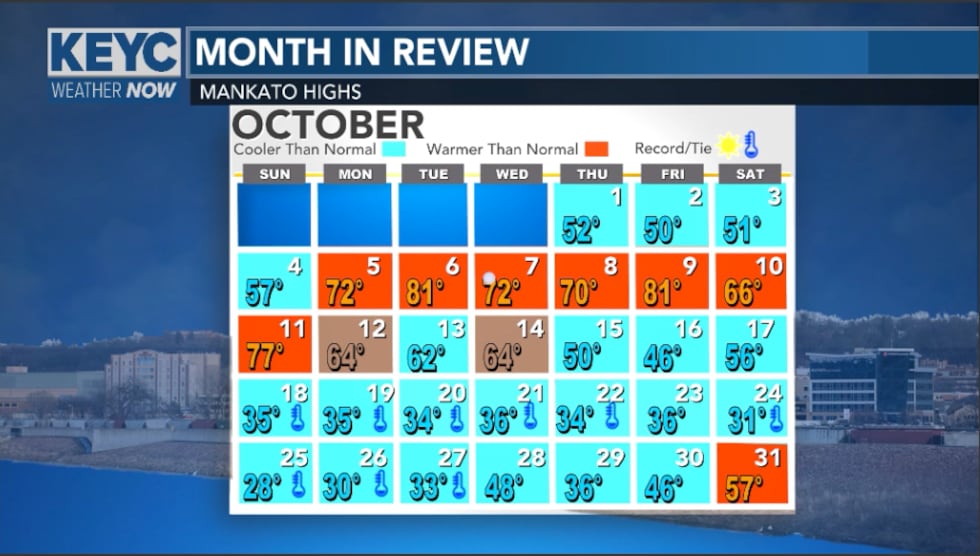 Mankato had a whopping 9 days with record low maximum temperatures from October 18th through the 29th. On October 25th, Mankato had a high of only 28º making it the coldest maximum temperature in the month of October on record. Record is based on data from the NOAA Regional Climate Center.
As for overnight lows, Mankato tied a record low on October 26th of 16º set back in 1988. The following day, the 27th, Mankato set a new record low of 12 beating the previous record of 15º set back in 1976. This day also set a record for lowest temperature recorded in the Month of October. The previous record was 13º set back in 1988.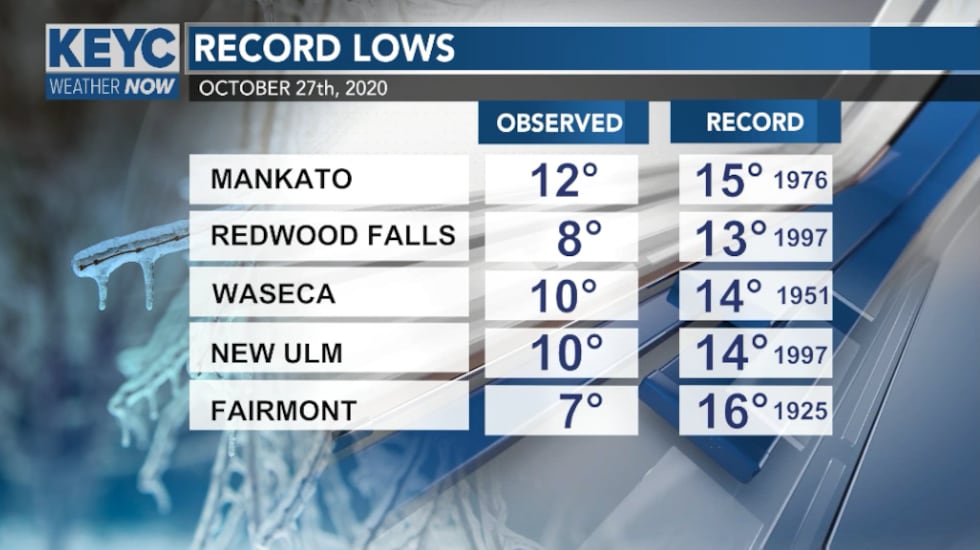 Waseca, who has better long range weather data, recorded some new to near records of their own. On October 24th, Waseca set a new record low of 16º beating the old record of 17º set back in 1962. October 27th the morning low was 10º which also led to a new record. Waseca also had the 5th lowest maximum temperature ever recorded on record on the 26th with a high of only 27º.
October 2020 was also a snowy month. The Twin Cities and St. Cloud both surpassed their record for snowiest October on record. While some long term weather stations in Southern Minnesota also proved record breaking snowfall totals. This includes Waseca (7.5″), Tracy (9.5″), and Marshall (8.7″). Back here in Mankato, at the KEYC News Now station we recorded 6.5″ of snow for the Month of October.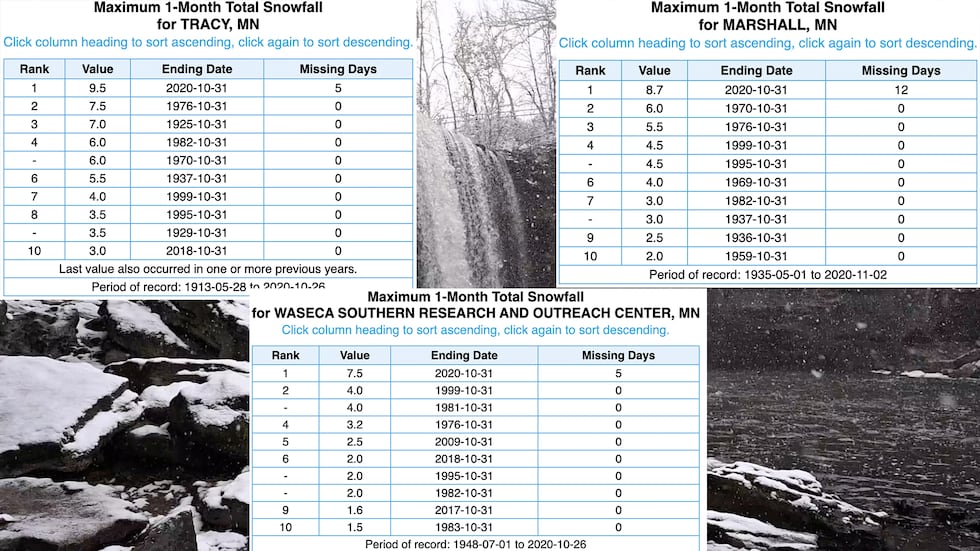 One of largest snow storms to hit Minnesota in October was the Halloween blizzard of 1991. The snow for this event started Halloween and wrapped up on November 2nd. The Blizzard of 91 ended up dropping 14 inches of snow in Mankato as of November 1st. In total 20 inches of snow accumulated by November 2nd in Mankato.
October 2020 has wrapped up and we are now on our way into November. Early start to November looks to be a warm one with temperatures climbing to well above average.
Copyright 2020 KEYC. All rights reserved.